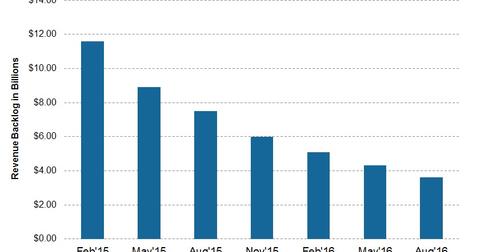 What Seadrill's Backlog Reveals about Its Future Revenue
By Sue Goodridge

Aug. 30 2016, Updated 12:04 p.m. ET
Backlog
As of August 24, 2016, Seadrill (SDRL) had a backlog of $3.6 billion compared to $4.3 billion in the previous quarter. A company's backlog helps gauge where its future revenues might be.
Article continues below advertisement
Backlog details
Seadrill's backlog for the next two quarters of 2016 is ~$650 million, which is 37% of the revenue for the first half of the year. This means that if the company isn't able to secure new contracts, its revenue for the next half of the year could plunge to just 37% of the revenue in the first half.
Going forward, the backlog for 2017 is ~$1,750 million, or 47% of the revenue over the last four quarters.
Of the total backlog of $3.6 billion, the floater segment's backlog stands at $2.6 billion. This is 103% of the floating segment's TTM (trailing-12-month) revenue. Similarly, the jack-up backlog stands at $1 billion, which is 93% of the jack-up segment's TTM revenue.
Contract updates
Following are the developments on the contract side that took place in the second quarter:
West Cressida commenced a new nine-month contract in Thailand, which added ~$18 million in backlog.
Seadrill received a notice from Statoil to terminate its contract on West Hercules. The company will receive a lump sum payment of $61 million plus day rate and reimbursement costs associated with demobilization of the rig.
Following are the developments that took place from the start of the third quarter to date:
Jack-ups AOD I and AOD II secured three-year contract extensions, which added ~$225 million in backlogs.
West Vigilant secured a three-month contract with Repsol in Malaysia. This increased the backlog by $10 million.
West Castor secured a new one-year contract with ENI in Mexico. It will commence in December 2016 and has added ~$40 million in backlog.
The company has received a notice of termination from Pemex of its contract on West Pegasus. This will result in a reduction of backlog by $266 million.
Backlog for peers
Seadrill's backlog of $3.6 billion is only 97% of its last four quarters' revenue. Below is a list of other offshore drillers' (OIH) backlog situations: