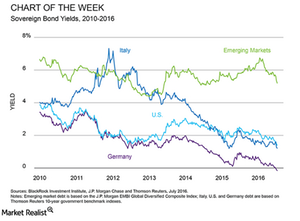 Risk-Reward Ratio Is in Favor of Emerging Market Debt
By Richard Turnill

Nov. 20 2020, Updated 3:17 p.m. ET
Chief Investment Strategist Richard Turnill explains why we see emerging market debt as an attractive source of income in a post-Brexit world.
Emerging market (EM) debt is enjoying robust returns this year. Is this asset class worth considering? We believe it is in today's post-Brexit world, and this week's chart helps explains why.
The chart above shows how EM debt yields have remained elevated, while those in developed markets have turned low to negative. EM debt has long offered attractive income, but weak fundamentals made it a somewhat risky proposition. We now see the asset class poised to benefit from the ongoing investor search for yield, as three key headwinds to emerging markets have turned into tailwinds.
Article continues below advertisement
Market Realist – Emerging market debt as a higher-yielding alternative
Emerging market debt (EMB) has attracted investors' attention as a higher-yielding alternative in a world where yields are quickly falling below zero. The rising credit quality on the back of the improving economy and strong liquidity made emerging market debt even more appealing.
Attractive returns
Despite higher volatility this year, many emerging markets offered attractive yields relative to developed markets' corporate (LQD) and Treasury bonds. Emerging market debts (LEMB) returned over 12.5% YTD (year-to-date)—compared to 6.8% for the S&P 500 (IVV) and an average of 3.3% for investment-grade US corporate debt.
Countries like Venezuela, Brazil, and South Africa have posted even higher returns. Data from JPMorgan Chase show that dollar debt issued by Venezuela and the Dominican Republic returned 26% and 16%, respectively, this year. On the other hand, data from Barclays indices showed that Brazil's US dollar denominated debt has gained around 21% YTD, while yields have fallen to the lowest level since 2015.
According to Bank of America Merrill Lynch, emerging bond funds have pulled up $18 billion in the last six weeks—a record inflow equivalent to 6% of their total assets under management.
Article continues below advertisement
Weak fundamentals
Despite attractive returns, many emerging markets are fraught with high risks. Recent events in Turkey highlight political risks of over exposure in emerging markets. Also, lower commodity prices led to higher current account deficits. This impacts the fundamentals of commodity-driven emerging economies like Russia and Brazil.
Sweet spot
Despite some of these concerns, emerging market debt (EMLC) has been remarkably resilient this year. Weak global growth and the search for yields will likely result in a continuation of the rally in the next few quarters. As a result, emerging markets will likely witness higher inflows in the second half of the year.
In the rest of this series, we'll discuss how the abatement of some of the major global headwinds created opportunities in emerging market debt.