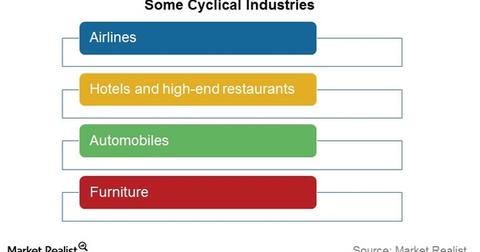 Changes to Richard Bernstein Advisors' US Equities in 2016
By David Ashworth

Updated
Richard Bernstein Advisors' position in 2015
In 2015, Richard Bernstein Advisors was defensively positioned. Being defensive means reducing allocation to equity while increasing allocation to fixed income instruments. Even in the equities space, sectoral allocation changes depending on stance.
A defensive position means higher exposure to consumer staples (PG), utilities (PPL), healthcare (PFE), and telecommunications services (TMUS) compared to other sectors. There are certain ETFs (XLP) (XLU) (XLV) (FXH) that help you to invest in these defensive sectors.
Apart from being overweight on sectors such as consumer staples and healthcare, the company was quite large-cap oriented, as stated by Richard Bernstein himself on a call arranged by Eaton Vance Investment Managers.
Article continues below advertisement
Over to 2016: What has changed?
In the previous article, we outlined the thoughts of the company on US corporate profits, and why it thinks that the worst of the profit recession may be behind us.
With that in mind, the company has become comparatively aggressive in 2016 regarding its equity allocation for US funds. As explained by Richard Bernstein during the above-mentioned call, the company has gone from being large-cap oriented to going lower down in market cap.
Also, it has become overweight on sectors such as energy, materials (XLB), financials (XLF), and technology (XLK). This is because these sectors tend to do well as the profit cycle turns for the better.
Markets agree
Apart from outlining a change in their US equity focus, Richard Bernstein said that equity markets seem to be agreeing with the assertion that the worst of the US corporate profit recession in behind us. To support this, Bernstein said that after the lows seen in February 2016, cyclical sectors have led equities so far in 2016.
Bernstein also said that many investors aren't realizing that the US equity market, not considering dividend payouts, has risen by ~6% year-to-date in 2016.
Apart from his company's portfolio positioning and changes, Bernstein also talked about the current fears in investors' minds regarding the equity market. Let's look at that in the next article.