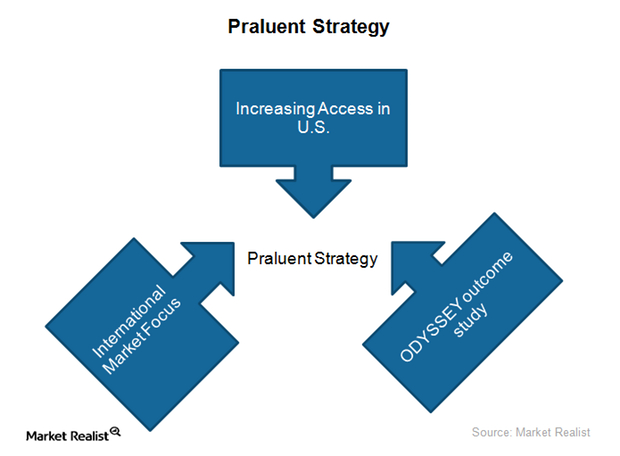 Restricted Access Continues to Impact Praluent Sales in 2016
By Margaret Patrick

Dec. 4 2020, Updated 10:53 a.m. ET
Praluent sales
While Eylea continued to be the key revenue earner for Regeneron for the past five years, the company adopted the strategy of diversification in other segments such as cardiovascular diseases, infectious diseases, and oncology. Praluent is one of the company's key new additions in the cardiovascular segment. Co-marketed by Sanofi (SNY) and Regeneron (REGN), Praluent is a PCSK9 therapy approved by regulatory bodies for lowering LDL cholesterol in patients suffering from atherosclerotic cardiovascular disease or heterozygous familial hypercholesterolemia. Similar to Amgen's (AMGN) Repatha, Praluent demonstrated higher efficacy in lowering cholesterol compared to statin drugs belonging to Pfizer (PFE), AstraZeneca, and Merck. To learn more about Praluent, read FDA Approves Potential Blockbuster Drug Praluent.
Article continues below advertisement
Increasing access in the US market
Regeneron has been actively involved in expanding access to Praluent in the US market. As of July 1, 2016, ~74% of the members covered by commercial health insurers and 94% covered by Medicare had access to the drug. The company also witnessed a rise in the overall number of prescriptions for PCSK9 inhibitor drugs such as Praluent and Repatha.
However, the excessive pre-authorizations and utilization management policies implemented by health insurers and pharmacy benefit managers continue to hinder the use of these drugs. It has been noted that the drug was actually dispensed in only 25% of the total prescriptions filled for Praluent.
Regeneron has been gradually witnessing an improvement in the payer landscape. Now, two major health insurers don't require patients to adhere to ZETIA step therapy before approving Praluent.
International market focus
Regeneron and Sanofi have been actively negotiating pricing and coverage decisions for Praluent with regulatory bodies across multiple countries in Europe. The drug managed to secure positive reimbursement decisions in the United Kingdom and Spain. Japan is also expected to be a major market for the drug.
Article continues below advertisement
ODYSSEY outcomes study
Currently, Regeneron and Sanofi are conducting multiple phase 3 trials involving more than 25,000 patients. They will test the tolerability, efficacy, and safety profile of Praluent. It's called the ODYSSEY outcomes study. The trial aims to answer whether the lowering of LDL cholesterol by Praluent will help reduce overall cardiovascular risk.
On August 29, 2016, the companies released positive data from ODYSSEY ESCAPE—one of the trials in the study. It was demonstrated that Praluent helped reduce LDL cholesterol in patients suffering from heterozygous familial hypercholesterolemia and needing to undergo apheresis treatment.
Positive data releases from these trials are expected to add to physician and patients' confidence regarding Praluent. This could help reduce payer restrictions on the drug. It might boost the drug's sales as well as Regeneron's share prices in future quarters. It could have a positive impact on share prices of the PowerShares QQQ (QQQ). Regeneron accounts for about 0.79% of QQQ's total portfolio holdings.