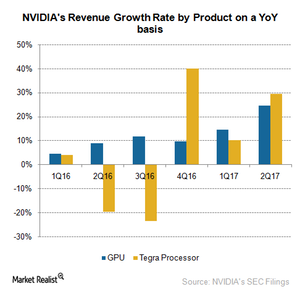 What Refreshes Growth of Nvidia's Tegra Processors?
What is Tegra?
In the previous part of this series, we saw that Nvidia (NVDA) is pacing up at rapid-fire speed in its core business of GPUs (graphics processing unit) with its Pascal architecture. Meanwhile, the company has also been earning 17% of its revenue from Tegra processors and IP (intellectual property) revenue from Intel (INTC).
Tegra is a SoC (system-on-chip) processor that the company leverages on various platforms: SHIELD for tablets, DRIVE PX for automotive, and Jetson for embedded.
Article continues below advertisement
Tegra's financial performance
As seen from the above graph, while the GPU business continued to report growth, Tegra went through a phase of negative growth in fiscal 2016 as tablet sales fell. The weakness in the tablet market also impacted Intel, which merged its Mobile business into its PC business after reporting a loss of $4 billion in the former.
However, things revived for Tegra in fiscal 4Q16. In fiscal 2Q17, Tegra revenue rose by 30% YoY (year-over-year) to $166 million, driven by strong demand in the automotive infotainment segment. On a sequential basis, revenue grew 4%.
Tegra in DRIVE PX
Nvidia uses a combination of Tegra processors and Pascal GPUs in its self-driving computing platform DRIVE PX 2. While self-driving cars still not available to the public, Tegra's fiscal 2Q17 sales were driven by increasing demand for car infotainment.
Texas Instruments (TXN) and NXP Semiconductors (NXPI) also reported strong growth in the automotive segment in the June 2016 quarter.
Tegra in SHIELD
Tegra SHIELD tablet was introduced in 2014, followed by an upgrade to Tablet K1 in late 2015. In May 2016, an FCC filing was leaked, stating that an upgrade to Tablet K1 is likely to be released in 2016. However, these rumors were dismissed by Nvidia in a letter to the FCC, canceling the upgrades.
There could be several business reasons associated with this cancellation such as the slowdown in the tablet market and strong performance of the SHIELD tablet. There are rumors that the company is investing in SHIELD TV.
On the IP front, Nvidia resolved its patent infringement case against Samsung (SSNLF) and Qualcomm in fiscal 1Q17, saving the former huge legal expenses.
Next, we'll look at the company's revenue by end markets, starting with gaming.