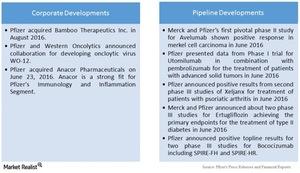 Recent Corporate and Pipeline Developments for Pfizer
By Mike Benson

Updated
Other developments
Apart from Pfizer's (PFE) product developments, a few of the recent pipeline and corporate developments follow.
Article continues below advertisement
Corporate developments
The recent corporate developments reported are as follows:
Pfizer acquired Bamboo Therapeutics, a biotechnology company focused on developing gene therapy for treating rare diseases. The company had acquired a 22% stake in 1Q16, while it acquired the remaining equity in August 2016.
Pfizer and Western Oncolytics announced a collaborative agreement to develop the oncolytic virus WO-12 for the treatment of cancer. According to the agreement, Pfizer has an option to acquire WO-12 after the completion of the Phase I trial.
Pfizer acquired Anacor Pharmaceuticals on June 23, 2016. The acquisition will help strengthen the Inflammation and Immunology portfolio of Pfizer's Innovative Pharmaceuticals segment.
Pipeline developments
The recent pipeline developments reported include:
Merck's (MRK) and Pfizer's first pivotal phase II study for Avelumab showed positive response in the treatment of patients with Merkel cell carcinoma. The data was published in June 2016.
In June 2016, Pfizer presented data from the Phase I trial for Utomilumab in combination with pembrolizumab for the treatment of patients with advanced solid tumors
Pfizer announced positive results from second phase III studies of Xeljanx for the treatment of patients with psoriatic arthritis, on June 7, 2016.
In June 2016, Merck and Pfizer announced two phase III studies for Ertugliflozin achieving the primary endpoints for the treatment of type II diabetes.
Pfizer announced positive top line results from two phase III studies for Bococizumab. These studies include SPIRE-FH and SPIRE-HR.
To diversify the risk, investors can consider ETFs like the iShares US Healthcare ETF (IHE), which holds ~8.4% of its total investments in Pfizer. IHE also holds ~10% of its investments in Johnson and Johnson (JNJ), ~7.4% in Merck and Co. (MRK), and ~6.7% in Bristol-Myers Squibb (BMY).