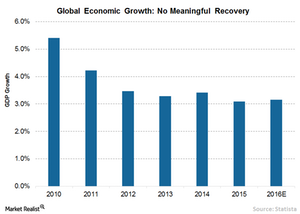 What Are the Rate Hike Implications for Emerging Markets?
By Richard Turnill

Dec. 4 2020, Updated 10:52 a.m. ET
The implications for EMs — and investors
Emerging market (EM) assets are typically vulnerable to Fed rate hikes. Higher U.S. rates often buoy the U.S. dollar and weigh on commodity prices. The reaction is likely to be muted at the next rate increase. We expect the Fed to raise rates just once this year — likely in December — and to proceed cautiously given the unevenness of the domestic economic recovery, as highlighted by weak retail sales data released last week, and global growth uncertainties.
Article continues below advertisement
Market Realist – Emerging markets are vulnerable to Fed rate hikes
Lower interest rates and rock-bottom bond yields have greatly benefited emerging market (EEM) currencies and liquidity. The J.P. Morgan Emerging Markets Currencies Index has risen 10% since January. However, a rate hike in the United States (IVV) is likely to pose a huge challenge to emerging markets.
Higher rates in the United States could cause a weakness in emerging market currencies against the dollar. Furthermore, higher rates in the United States often enhance the dollar debt returns, which could be detrimental to emerging market currencies.
Gradual rate hikes
Although policymakers have presented a case of an imminent rise in interest rates, future hikes are expected to be gradual as the Federal Reserve tries to balance growth against overheating of the economy. The domestic economy is not yet out of the woods. According to the United States Department of Commerce, GDP grew by just 1.1% in the second quarter.
Oil and export-driven manufacturing companies are struggling to make profits, while private investments have yet to pick up meaningfully. In the second quarter, corporate profits dipped for the fifth consecutive quarter.
Article continues below advertisement
Global economic headwinds
A fragile global economy saddled with numerous political and economic headwinds is another challenge to US growth. Slower global (EFA) growth, uncertainty in the European Union (EZU) and the United Kingdom, and the protracted slowdown in commodity-driven economies due to lower commodity prices have the potential to derail economic growth in the United States. According to the IMF (International Monetary Fund), the world economy is expected to grow by 3.2% this year compared to an earlier forecast of 3.6%.
Emerging markets' reactions likely to be muted
Emerging markets (IEMG) are expected to react patiently to the anticipated rate hike in the United States. This is because capital outflows from emerging markets due to a possible US rate hike are likely to be offset by inflows from Japan's and the Eurozone's stimulus measures. Additionally, emerging market currencies have not always underperformed when the Fed hikes rates.