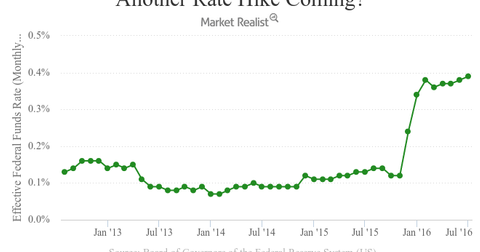 A Rate Hike en Route? Janet Yellen's Speech at Jackson Hole
By David Ashworth

Aug. 29 2016, Published 9:28 a.m. ET
Is the next rate hike coming?
Fed chair Janet Yellen spoke on August 26 last week at the Jackson Hole Economic Symposium. Her speech provided important guidance on the recent aggressive stance on the next rate hike adopted by New York Fed chief William Dudley and the restrained July 2016 monetary policy meeting minutes.
Her remarks were quite aggressive about the next rate hike. She said, "I believe the case for an increase in the federal funds rate has strengthened in recent months." However, all caveats regarding the Fed's declared dependence on data followed.
[marketrealist-chart id=1574620]
Article continues below advertisement
Not unexpected
Was Yellen aggressive in her tone? Yes. Is a rate hike en route? Not necessarily. This sounds like a contradiction, but given how the Federal Reserve has acted in the recent past, this contradiction seems justified.
Consider this. When the Fed hiked the federal funds rate in December 2015, policymakers were very positive about four or even five rate hikes in 2016. However, with eight months already over, we're still talking about the one and only rate hike. Global developments such as the slowdown in China and tepid growth at home were responsible for delaying a rate hike beyond 1Q16.
In the April 2016 meeting, monetary policymakers sounded hawkish about a rate hike at the June meeting. However, in June, a dovish stance returned in the wake of the impending Brexit vote that month. Now we're back to at least a semi-aggressive tone.
Credibility under question
This puts into question the forecasting ability of the Fed. Sure, the Brexit vote was unexpected and some caution was required. But being unable to gauge the state of the domestic economy and inflation with a measure of accuracy makes us not trust these guarded indications of a rate hike.
After the release of the July meeting minutes, equity markets, which have benefited from the low interest rate regime, actually gained. This shows that market participants weren't buying the rate hike argument being made by monetary policymakers.
Utilities, which are usually negatively impacted by talks of a rate hike, powered the S&P 500 (SPY) (IVV) on the day the July minutes were released. Stocks such as PG&E (PCG), Edison International (EIX), and Sempra Energy (SRE), among others, posted strong gains.
Yellen reviewed the US economy in her speech. In the next part, we'll see what she had to say.