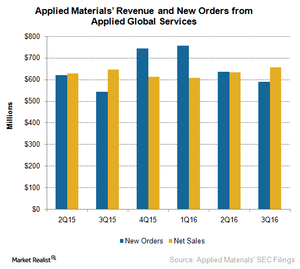 What Pushed Applied Materials' Services Revenue So High?
By Puja Tayal

Dec. 4 2020, Updated 10:53 a.m. ET
Applied Global Services
Apart from supplying equipment, Applied Materials (AMAT) also provides services that help manufacturers maintain and optimize the use of its equipment. AMAT reports earnings from these services separately in its AGS (Applied Global Services) segment, which is its second-most profitable segment.
In fiscal 3Q16, the company stopped reporting earnings separately in its EES (Energy and Environmental Solutions) segment and made changes within the business segments reporting. It shifted the display equipment upgrades from AGS (Applied Global Services) to the Display segment. With these changes, AMAT expects to realize technology market and management synergies.
Article continues below advertisement
AGS fiscal 3Q16 performance
In fiscal 3Q16, AGS revenue rose by 1.7% YoY (year-over-year) to a record high of $657 million. The segment now accounts for 23% of the company's revenue. The segment's non-GAAP (generally accepted accounting principles) operating margin rose from 25.5% in fiscal 3Q15 to 26.8% in fiscal 3Q16.
AGS's new orders rose by 8.7% YoY to $590 million in fiscal 3Q16, and its backlog orders rose to $742.5 million. AMAT expects AGS revenue to rise by 12% YoY to $684.3 million in fiscal 4Q16 on the back of a total order book of $1.3 billion.
An increase in silicon systems orders increases the demand for services. The company expects demand for silicon systems to grow in the future.
Outlook for Silicon Systems
In the company's fiscal 3Q16 earnings call, AMAT Chief Financial Officer Bob Halliday stated that the Silicon Systems segment is set to grow, driven by the need for technology transition. Semiconductor companies are witnessing the future trend of AR-VR (augmented and virtual reality), autonomous cars, deep learning, and AI (artificial intelligence). This requires high-performance chips and advanced 3D memory.
Article continues below advertisement
NVIDIA (NVDA), Intel (INTC), and Advanced Micro Devices (AMD) are at the forefront of this technology. AMD and NVIDIA recently shifted to the 14 nm node after being stuck on 28 nm for four years. Intel and Micron (MU) have developed a revolutionary memory technology, 3D XPoint, that will support data analytics. As these trends emerge, the available market for 10 nm could grow by around 25%, as compared to the previous node.
AMAT's new products
AMAT has launched Selectra, a selectivity etch tool that removes precision materials from delicate logic and memory chips without damaging them. The company expects to ship 350 units by the end of fiscal 2016. The company is witnessing strong demand for its newly launched e-beam inspection tool, PROVision. These two products should boost AMAT's silicon systems revenue in fiscal 4Q16.
Now let's look at the performance of AMAT's fast-growing Display segment.