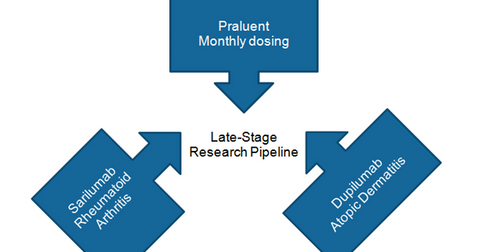 Regeneron's Growth Opportunities: Praluent, Sarilumab, and Dupilumab
By Margaret Patrick

Updated
Growth opportunities
Regeneron (REGN) and Sanofi (SNY) have submitted a supplemental BLA (biologics license application) to the FDA for review for approving the 300mg monthly dosing of Praluent. Also, the companies submitted a BLA for review of Sarilumab as a therapy for rheumatoid arthritis. Currently, Dupilumab is being tested by Regeneron and Sanofi in phase 3 clinical trials for demonstrating its efficacy and safety as a therapy for atopic dermatitis. This drug can also be developed for several other issues such as asthma, eosinophilic esophagitis, and nasal polyps.
Article continues below advertisement
Regeneron's strong and diversified late-stage pipeline is expected to boost the company's share prices in the future. It could also have a positive impact on the Health Care Select Sector SPDR ETF's (XLV) share prices. Regeneron accounts for about 1.1% of XLV's total portfolio holdings. To learn more about Regeneron's research pipeline, read Regeneron's Robust Pipeline.
Praluent monthly dosing
The FDA will release its decision related to Praluent's monthly dosage BLA by January 24, 2017. Regeneron and Sanofi also submitted an application seeking approval for monthly dosing of Praluent in Europe. The 300mg monthly dose of Praluent is expected to improve adherence to the therapy and improve patient outcomes. If approved, Praluent might be able to compete more effectively with the PCSK9 inhibitor drug, Amgen's (AMGN) Repatha as well as with statin drugs such as Pfizer's (PFE) Lipitor and AstraZeneca's Crestor.
Article continues below advertisement
Sarilumab
In its clinical trials, Regeneron and Sanofi's investigational drug, Sarilumab, managed to demonstrate high efficacy both as a combination with methotrexate as well as monotherapy for rheumatoid arthritis. On March 11, 2016, the companies announced the results from the phase 3 study, SARIL-RA-MONARCH. It demonstrated that Sarilumab might be more effective than Humira for patients suffering from active rheumatoid arthritis. The FDA will announce its decision regarding Sarilumab by October 30, 2016.
Dupilumab
Regeneron and Sanofi's Dupilumab is being developed mainly as a therapy for atopic dermatitis. With around 1.6 million adults suffering from a moderate to severe version of this disease in the US and with the majority of FDA-approved therapies being topical ointments, there's significant unmet demand in this segment. Read Regeneron's Dupilumab: How Much Potential Does It Hold? to learn more about Dupilumab.