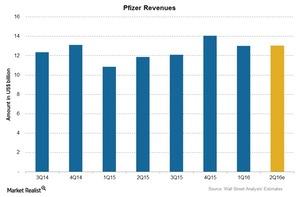 Pfizer Expected to Continue Revenue Growth in 2Q16 Earnings
Pfizer's revenue estimates
Analysts expect Pfizer's (PFE) 2Q16 revenue to grow ~9.8% to ~$13.0 billion following an increase in the sales of the Prevnar family and the company's new drugs Xalkori and Xeljanz, among others. This growth is likely to be offset by lower sales from its blockbuster drugs Celebrex, Zyvox, and Lyrica.
The above chart shows Pfizer's actual revenues and analysts' estimates since 3Q14.
Article continues below advertisement
Segment-wise expectations for 2Q16
Pfizer is divided into two businesses and three business segments:
Innovative Pharmaceuticals, consisting of the GIP (Global Innovative Pharmaceuticals) and the VOC (Global Vaccines, Oncology, and Consumer Healthcare) segments
Established Pharmaceuticals, consisting of the GEP (Global Established Pharmaceuticals) segment
The Innovative Pharmaceuticals business includes two segments, as stated above. The GIP segment has a few blockbuster products including Eliquis, Xeljanz, Lyrica, and Viagra, which contribute to the majority of revenues from this segment. The products from the Prevnar family drive revenues for the VOC segment. Collectively, the Innovative Pharmaceuticals business is growing based on its innovative products as well as research and development for new products. Revenues for the Innovative Pharmaceuticals business are expected to increase during 2Q16, following the performance of its blockbuster drugs.
The Established Pharmaceuticals business is more mature and includes products that have lost their exclusivity through 2015 and are exposed to generic competition. This segment includes a few key products such as Celebrex and Zyvox, which are losing their revenues to the generic competition. This is negatively affecting overall revenues for the GEP segment.
Year-over-year revenues
Pfizer's revenues have declined year-over-year since 2012 due to loss of exclusivity of many key products in its portfolio. The company reported a 2% decline in 2015 revenues, a 3.8% decline in 2014 revenues, and a 5.6% decline in 2013 revenues following the expiration of patents for key products such as Viagra, Celebrex, Zyvox, Lyrica, and Lipitor. Revenues were also affected by the expiration of Pfizer's Enbrel and Spiriva collaboration. For 2016, the company is expected to report growth of ~8% to ~$52.7 billion.
To diversify exposure, you can consider ETFs such as the Fidelity MSCI Health Care Index ETF (FHLC), which holds 6.9% of its total assets in Pfizer, 3.6% of its total assets in Gilead Sciences (GILD), 3.9% of its assets in Bristol-Myers Squibb (BMY), and 2.9% of its assets in Allergan (AGN).