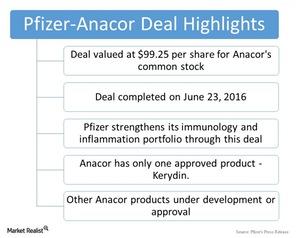 Pfizer-Anacor Deal Completed in June 2016
By Mike Benson

Updated
Pfizer-Anacor deal
On June 23, 2016, Pfizer (PFE) completed the acquisition of Anacor Pharmaceuticals (ANAC). For the valuations, the stock transaction is valued at $99.25 per Anacor share, resulting in a total enterprise value of ~$5.2 billion.
Article continues below advertisement
What is Anacor?
Anacor is a California-based biopharmaceutical company. It is focused on developing and commercializing boron-based drugs for the treatment of various inflammatory, fungal, and bacterial diseases.
Key highlights of the deal
The key highlights of the deal are:
Anacor valued at $99.25 per share for Anacor's common stock
Pfizer completed the acquisition through its subsidiary Quattro Merger Sub.
Anacor's products and pipeline are a strong fit for Pfizer's Inflammation and Immunology segment
Crisbarole ointment is one of the key products in the pipeline, and the FDA accepted the new drug application in March 2016 with a PDUFA goal date in January 2017. Crisbarole is an important development and if approved, might be one of the important first-line treatment of atopic dermatitis.
Kerydin, another important product from Anacor, is already approved by the FDA and is marketed in the US by Novartis's (NVS) subsidiary Sandoz. Anacor holds the rights on the drug Kerydin. Keyrdin is used in the treatment of onychomycosis, a type of toenail fungus.
The acquisition of Anacor expected to increase near-term revenue growth for the Innovative Pharmaceuticals business segment.
The transaction will also preserve the potential separation of the Innovative Pharmaceuticals business and Established Pharmaceuticals business. The Anacor products portfolio will be a part of the Innovative Pharmaceuticals business.
Investors can consider ETFs like the iShares US Healthcare ETF (IHE), which holds ~8.4% of its total investments in Pfizer, ~6.2% of its total investments in Allergan (AGN), and ~10% of its investments in Johnson & Johnson (JNJ), in order to divest the risk.