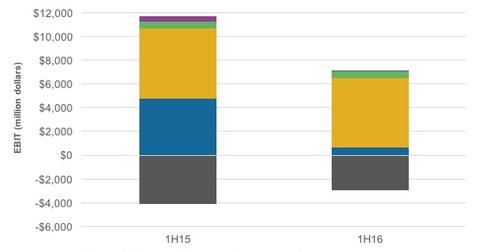 Petrobras's Segments in 1H16: E&P Falls, Refining Saves the Day
By Maitali Ramkumar

Updated
Petrobras's segments: E&P earnings fall
Petrobras (PBR), an integrated energy major, has five segments:
Exploration and Production (or E&P)
Refining, Transport, and Marketing (or RTM)
Gas and Power (or G&P)
Biofuels
Distribution of fuels
Sinking oil prices have changed segment dynamics considerably within Petrobras. In 1H15, Petrobras's E&P segment contributed $4.8 billion, or 63%, to PBR's total EBIT. However, the segment's earnings fell to $628 million in 1H16 due to lower crude oil prices and a fall in oil and natural gas production. Brent prices, which averaged $58 per barrel in 1H15, fell to $40 per barrel in 1H16.
Article continues below advertisement
The situation was similar for PBR's peers. Earnings from ExxonMobil's (XOM) upstream segment fell by 86% YoY (year-over-year) to $294 million in 2Q16. BP's upstream segment, which contributed 20% to its URC EBIT (underlying replacement cost and earnings before interest and tax) in 2Q15, contributed 2% in 2Q16.
Suncor's (SU) Oil Sands segment, which earned a profit in 2Q15, posted a loss in 2Q16. If you want exposure to energy sector stocks, you can consider the Energy Select Sector SPDR ETF (XLE).
Petrobras's segments: RTM rises, G&P and Distribution fall
Petrobras's RTM segment registered a marginal 0.2% rise in EBIT over 1H15 to $5.9 billion in 1H16. This included a foreign translation effect on account of the ~25% depreciation of the Brazilian real against the US dollar. Excluding the impact of foreign exchange, the RTM segment registered a rise in operating earnings, which was partly offset by Comperj refinery impairments.
The G&P segment's EBIT fell by 11% over 1H15 to $537 million in 1H16. This was due to the foreign translation effect, lower electricity sales volumes, and lower electricity prices in the spot market.
PBR's Distribution segment's EBIT fell by 86% over 1H15 to $63 million in 1H16 due to lower sales volumes in Brazil. Biofuels also reported a fall in 1H16.