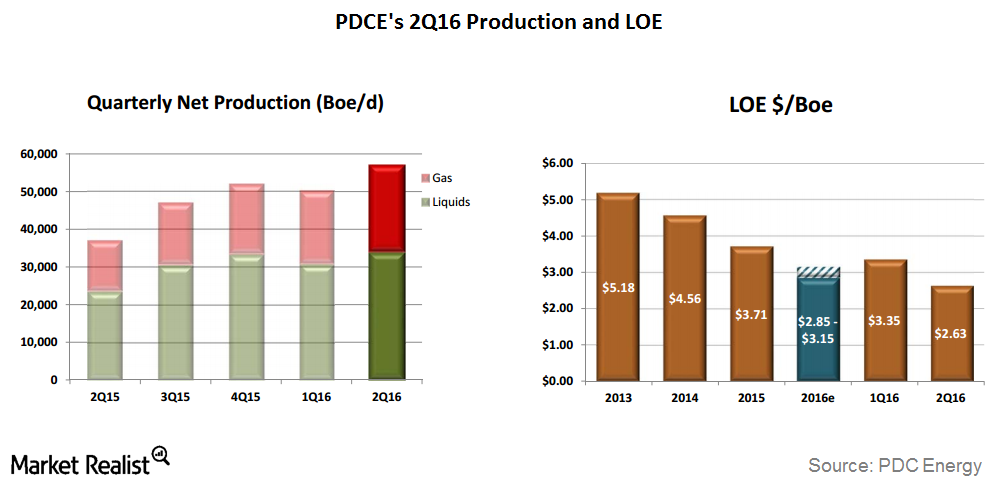 PDC Energy's 2Q16 Operational Highlights
PDCE's key operational highlights
PDC Energy's (PDCE) total production volume in 2Q16 was ~57.1 Mboepd (thousand barrels of oil equivalent per day). In comparison, its 2Q15 production volume was 37 Mboepd.
PDCE's 1Q16 production volume amounted to 50.2 Mboepd. The company's 2Q16 earnings release noted that oil made up 40% of its 1H16 production. Natural gas and natural gas liquids made up 40% and 20%, respectively, of its 1H16 production.
In its 2Q16 earnings release, PDCE noted, "The increase in production over second quarter 2015 was primarily due to successful execution of the Wattenberg drilling program and partially attributable to reduced line pressures in the Wattenberg Field."
Lease operating expenses (or LOE) were $2.63 per barrel of oil equivalent (or boe) in 2Q16, a fall of 29% year-over-year.
Article continues below advertisement
PDCE's 2Q16 realized prices
PDCE's crude oil price realizations were $40.37 per barrel in 2Q16, 16.4% lower than its 2Q15 realized prices. PDCE's natural gas price realizations were $1.37 per million cubic feet in 2Q16, 32% lower than its 2Q15 realized prices. On the other hand, PDCE's 2Q16 natural gas liquids price realizations rose by ~19% compared to 2Q15.
PDCE's 2016 production guidance
PDCE increased its 2016 production guidance range to 21–22 MMboepd, up from its previous forecast of 20–22 MMboepd, which it had provided in 1Q16. This was ~40% higher at the midpoint compared to 2015.
PDCE attributes the rise to enhanced completion designs resulting in the outperformance of some of its wells.
In comparison, Whiting Petroleum (WLL) has provided midpoint growth guidance of -6%. Concho Resources (CXO) has provided a growth range of 0%–2%.
Continue to the next article for an analysis of PDCE's recent stock performance.