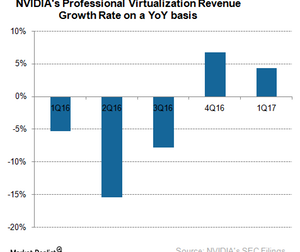 Pascal Effect Spreads to Nvidia's Professional Visualization
By Puja Tayal

Updated
Nvidia's professional visualization segment at a glance
In the previous part of the series, we saw that Nvidia's (NVDA) gaming segment is likely to benefit from the Pascal-based GeForce GTX 1080 and 1070. The company is not only catering to gamers but also to game developers. Its Quadro platform is designed to help game developers develop advanced games. Revenue from these Quadro chips is reported under Nvidia's professional visualization segment.
Just two quarters back, the company's professional visualization segment returned to revenue growth, as you can see in the graph below. This segment generates around 15% of the company's revenue.
Article continues below advertisement
Nvidia's new Quadro P6000
Nvidia has developed high-power Titan X GPUs (graphics processing units) for gamers. In order to maximize gaming experience, it's simultaneously developing high-power Quadro processors.
The company recently announced its Pascal-based Quadro P6000 and Quadro P5000 to power workstations. The company stated that the Quadro P6000 features 3,840 Pascal cores and 24GB (gigabyte) GDDR5X (double data rate type five synchronous graphics random access memory) and delivers 12 teraflops of computing performance. The Quadro P6000 delivers two times the speed of Titan X, which features 3,584 cores and 12 GB GDDR5X and delivers 11 teraflops of performance.
Quadro P6000 is expected to support virtual reality designs and render 3D (three-dimensional) videos faster. Nvidia will also launch the Quadro P5000, which would feature 2,560 cores and 16GB of GDDR5X memory and deliver up to 8.9 teraflops of computing performance.
The new Quadro GPUs would be built on Taiwan Semiconductor Manufacturing's (or TSMC) (TSM) 16 nm (nanometer) FinFET (fin-shaped field effect transistor) technology and is expected to come on the market by the fall of 2016.
AMD's new Radeon Pro WX series
Advanced Micro Devices (AMD) is competing head-to-head with Nvidia in the gaming segment in order to win back its lost market share. The company recently announced its new Polaris-based Radeon Pro WX 7100, 5100, and 4100 GPUs to power workstations. The most advanced model, the 7100 GPU, is expected to be priced at $1,000.
The Radeon Pro WX series will be built on Samsung's (SSNLF) 14 nm FinFET technology and would help artists, designers, and engineers create content for AR/VR (augmented realty and virtual reality) on open source software. The Radeon Pro WX series is expected to come on the market by the end of 2016 and compete with Nvidia's Quadro P6000 and P5000.
Next, we'll look at Nvidia's data center segment. The SPDR S&P 500 ETF (SPY) has holdings in US equities listed in the S&P 500 Index. It has 0.15% exposure to Nvidia.