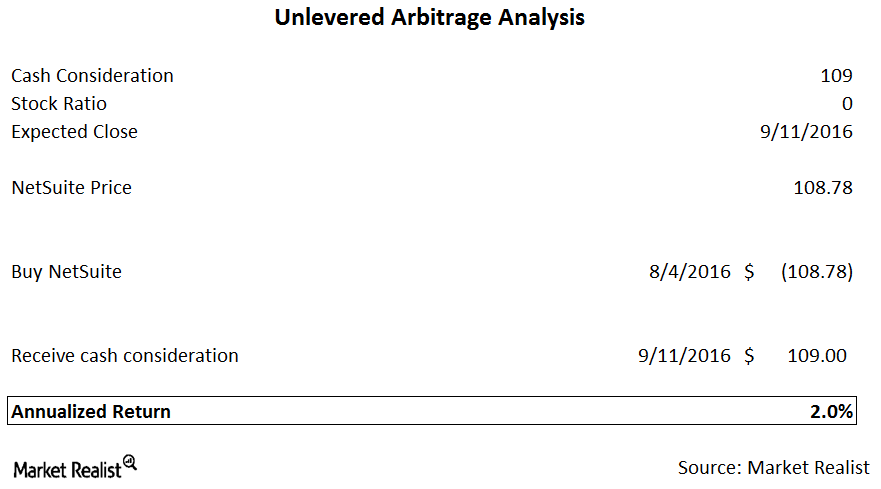 Oracle Announces NetSuite Acquisition: Cloud Gets Bigger
By Brent Nyitray, CFA, MBA

Aug. 4 2016, Updated 11:30 a.m. ET
Merger arbitrage
In merger arbitrage, an investor generally buys the stock of a company being acquired, short-sells the relevant ratio of the acquirer's stock, if applicable, and waits for the deal to close. When the merger is complete, the investor exchanges the stock of the company being acquired for the amount agreed on in the deal.
Article continues below advertisement
Oracle builds up cloud offerings
On July 28, 2016, Oracle (ORCL) and NetSuite (N) announced a merger in which Oracle will purchase NetSuite for $109 per share, or ~$8.6 billion net of cash and debt.
The merger will be handled as a tender offer, which usually has a shorter time frame to close than the usual four-month timeline when a shareholder vote is required. Oracle is guiding for a 2016 close. However, tender offers are usually completed in about 45 days.
Assuming you buy NetSuite at its current level, the spread works out to be about 1.9% annualized. As far as merger arbitrage returns, that's a paltry spread. It speaks to both the quality of the buyer and at least some possibility of a competing buyer. As a general rule, big tender offers are rare, and big ones usually signal some sense of urgency on the part of the buyer.
Merger arbitrage resources