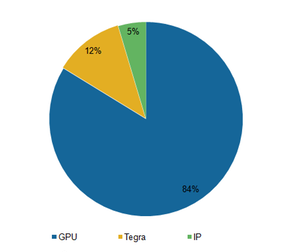 Nvidia Launches 6 Pascal GPUs in Fiscal 2Q17 and Still Counting
By Puja Tayal

Updated
GPU business
Nvidia (NVDA) is among the few companies that has swum against the tide, reporting growth and profits in a slowing semiconductor market. This is due to its core product GPU (graphics processing unit), which accounts for 84% of its revenue.
According to Jon Peddie Research, Nvidia is a market leader in the discrete GPU segment, commanding an 81% share, followed by Advanced Micro Devices (AMD).
In fiscal 2Q17, Nvidia's revenue from its GPU segment rose by 25% YoY (year-over-year) to $1.2 billion, driven by strong demand for its new Pascal GPUs in the gaming and data center markets. On a sequential basis, revenue rose by 11%. The company's three major revenue streams by product are GPUs, Tegra processors, and IP (intellectual property). We will look at the latter two products in the next part of this series.
Nvidia is well-known for its high-end GPUs used in gaming. However, with the slowdown in the PC space, the company decided to diversify its GPUs in alternate markets and is now focusing them on three major technology revolutions—virtual reality, deep learning, and autonomous cars.
Article continues below advertisement
Pascal-based GeForce GPUs
Nvidia recently launched its revolutionary GPU architecture Pascal, built on TSMC's (TSM) 16nm (nanometer) node, which succeeds Maxwell, which is built on the 28nm node. In fiscal 2Q17 alone, Nvidia launched four major Pascal GPUs for gaming: GeForce GTX 1080, 1070, 1060, and Titan X.
Pascal-based Quadro GPUs
Nvidia recently launched Quadro P6000 and P5000 for graphics professionals. With 3,840 CUDA parallel processing cores and 24GB (gigabyte) of GDDR5X (double data rate type five synchronous graphics random access memory) GPU memory, Quadro P6000 is faster than Titan X and GeForce GTX 1080.
Pascal-based Tesla GPUs
Nvidia introduced the data center market to its Pascal GPU with Tesla P100 used for deep learning in fiscal 1Q17. This saw the company's data center revenue grow by 110% YoY in fiscal 2Q17 as more companies adopt deep learning. Nvidia is now posing a challenge to Intel (INTC) in the high-performance computing area.
With so many launches happening in just one quarter, is this it or or is there more to come? During the fiscal 2Q17 earnings call, Nvidia's president, Jen-Hsun Huang, said, "We have taped out, we have verified, we have ramped, every Pascal GPU. That's right. However, we have not introduced everyone." This means that more Pascal GPUs are on their way in fiscal 2H17.