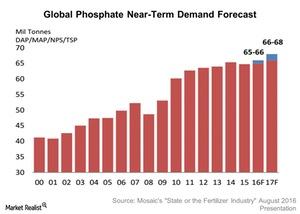 Near-Term Outlook for Phosphate Fertilizer Demand and Prices
By Adam Jones

Updated
Phosphate fertilizer demand
Previously, we discussed the near-term phosphate capacity outlook and operating rates for the industry (MOO). The operating rate is expected to increase in the near term as a result of an uptick in demand.
The chart below illustrates the demand forecast for 2017.
Article continues below advertisement
Demand to increase
Combined global demand for phosphate fertilizers such as DAP/MAP/NPS/TSP (di/mono ammonium phosphate, nitrogen + phosphorous + sulphur, and triple superphosphate) for fiscal 2016 is expected to range from 65 million–66 million metric tons. This is expected to increase between 1.5%–3% to 66 million–68 million metric tons in 2017, according to Mosaic (MOS) and CRU Group, as we can see in the chart above.
Companies such as Mosaic, PotashCorp (POT), Agrium (AGU), and Israel Chemicals (ICL) stand to benefit from any increase in global phosphate demand.
Why demand should grow
The increase in phosphate demand is expected to come from India, which benefited from a favorable monsoon season this year. According to Mosaic, demand is also expected to come from Brazil. Inventory fill-up should also contribute to growth in phosphate demand as customers delayed their purchases, anticipating a further decline in prices.
However, Mosaic expects phosphate prices to be "moderate" in 2017. We track fertilizer prices weekly, which you can use to monitor price movements to make adjustments to your portfolio.
In the next part of this series, we'll look at potash fertilizers.