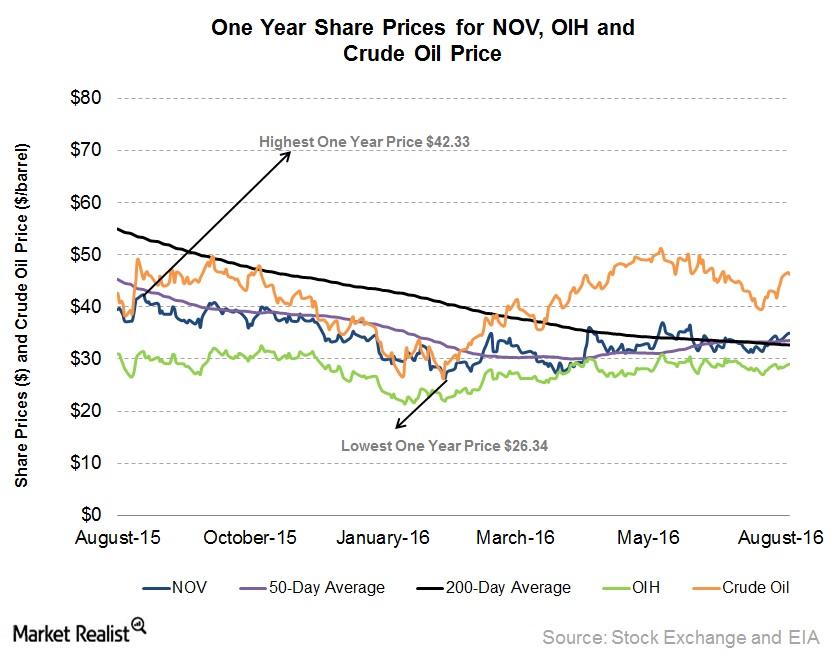 Is National Oilwell Varco's Share Price Bullish?
National Oilwell Varco versus peers and industry
National Oilwell Varco (NOV), which designs, manufactures, and sells equipment and components used in upstream energy production, had a steady run in the stock market in 2016. On August 16, NOV was trading at $34.97, which was ~1% higher than its price at the beginning of 2016.
The VanEck Vectors Oil Services ETF (OIH), an ETF tracking index of 25 OFS companies, has increased by ~9% since January 1. Helix Energy Solutions Group (HLX), NOV's smaller market cap peer, has risen by 50% during the same period.
The entire OFS industry has been negatively affected by the energy price crash since June 2014. West Texas Intermediate (or WTI) crude oil prices have recovered by 26% year-to-date. NOV comprises 4.9% of OIH.
Article continues below advertisement
What does National Oilwell Varco's share price movement tell us?
In the past year, National Oilwell Varco's share price has trended down since late August 2015 until February 2016. NOV's quarterly revenues and net income in the past four quarters persistently stayed weak. Its cash flows, which remained strong until 1Q16, also weakened in 2Q16.
National Oilwell Varco's moving averages
On August 16, National Oilwell Varco's (NOV) share price was at a 4% premium to its 50-day moving average (or DMA). It is also trading 7% above its 200-day moving average.
Moving averages exhibits a smoother trend following the stock's price movement. A 50 DMA is a short-term MA, while a 200 DMA shows a long-term trend. National Oilwell Varco's short-run MA, which had largely stayed below its long-run MA in the past year, crossed over in late July. NOV's share price has also been running above its long-run MA since the first week of August. This indicates that National Oilwell Varco's share price is beginning to show bullishness.
In this series, we will analyze National Oilwell Varco's top-line and bottom-line growth, the effect of industry drivers over NOV's growth, its balance sheet, free cash flow, dividend, and its valuation multiples. We will start with its management comments in the next part.