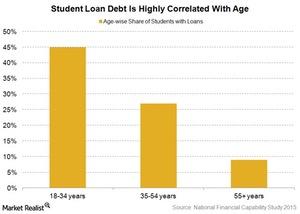 Millennials or Baby Boomers: Who's Affected Most by Student Debt?
By Surbhi Jain

Nov. 22 2019, Updated 6:57 a.m. ET
Student loan debt is highly correlated with age
According to a survey conducted and released by the NFCS (National Financial Capability Study) for 2015, 26% of American adults currently have a student loan for themselves or a family member. Among those with student loans, 73% took out the loans for their own education.
Not surprisingly, student loan debt in the United States (IVV) (VOO) is highly correlated with age. About 45% of respondents aged 18–34 years have student loans, 27% aged 35–54 years have student loans, and only 9% of those 55 years and older have student loans.
Article continues below advertisement
About 42% of Millennials are currently paying off student loans in the United States (IWD) (IWF) (VEA). They also need to pay their credit card bills and provide for their day-to-day expenses. Some of them are even supporting their Baby Boomer parents. Quite understandably, this section of the US population is stressed out about money.
Baby Boomers haven't been spared
This crisis is not just about Millennials. The Baby Boomer generation has also been increasingly contributing to the student debt crisis.
Let's look at Baby Boomers. They're trying to provide for their retirement and future healthcare costs and sometimes helping their Millennial children pay off their student loans. With many of them drawing down their retirement funds, this segment of the population is also stressed. Lackluster wage growth in the United States has even led some of them to enroll in college and take on student loans with the expectation of a higher payoff in the future.
Baby Boomer debt has been rising, too
According to data compiled by the Federal Reserve Bank of New York, the number of Parent PLUS borrowers aged 60 and older rose from 700,000 in 2005 to 2.2 million in 2013. Simultaneously, the aggregate amount of outstanding student loans held by people 65 years and older grew to $18.2 billion in 2013, from $2.8 billion in 2005.
The GAO's (U.S. Government Accountability Office) 2014 report indicated that only 27% of the loan balances held by borrowers between the ages of 50 and 64 was for their children. The remaining 73% was for their own education.
The issue of increasing tuition and the corresponding rise in student defaults has become a matter of debate in the US presidential campaigns.