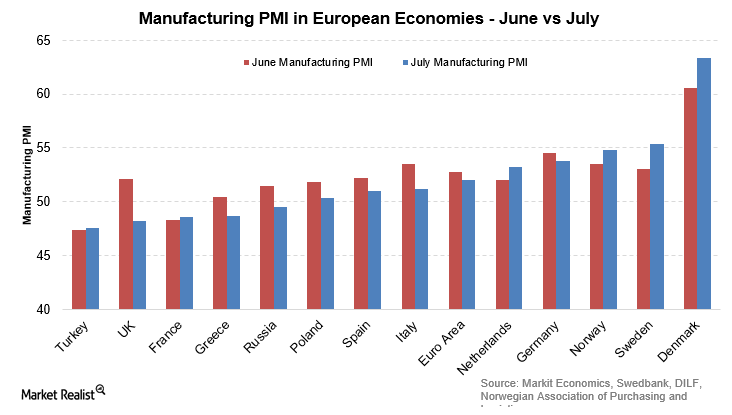 Why Did Manufacturing Activity Slow in the Eurozone?
By David Meyer

Nov. 20 2020, Updated 4:04 p.m. ET
Manufacturing activity in the Euro area slows in July
The manufacturing PMI (purchasing managers' index) in the Eurozone (EZU), published by Markit Economics, fell to 52.0 in July 2016 from 52.8 in June. It was slightly above the estimated forecasts of 51.9. The slowness in the index was primarily driven by a fall in new business growth, while the number of jobs created also rose at a sluggish pace. Manufacturing activity in Germany (EWG) slowed in July—the PMI fell from 54.5 to 53.8. The French (EWQ) manufacturing PMI remained below the threshold level of 50—it released at 48.6 in July. On Friday, there was optimism in European financial markets—the economy and inflation levels grew past market expectations. To learn more, read Eurozone's Economy and Inflation Levels Beat Market Expectations.
Article continues below advertisement
United Kingdom's manufacturing PMI fell
Manufacturing activity in the United Kingdom (EWU) fell to the lowest level since February 2013. The manufacturing PMI fell in the contraction zone to 48.2 in July from 52.4 in June. More uncertainty about upcoming business orders and lower levels of production due to the Brexit vote were the primary drivers.
Scandinavian economies see a rise in manufacturing activity
The manufacturing activity in Scandinavian economies posted positive results. The manufacturing PMI in Sweden (EWD) rose to 55.4 in July from 53.0 in June. Norway's PMI reached the highest level since March 2012. It was 54.8 in July—compared to 53.8 in June. The rise in manufacturing activity in Norway was driven by higher output growth. Also, the manufacturing PMI in Denmark rose to 63.3 in July—compared to 60.6 in the previous month as employment figures increased. On Friday, macroeconomic released across the Scandinavian economies released below expectations. To learn more, read Scandinavian Macroeconomic Data Are below Expectations.