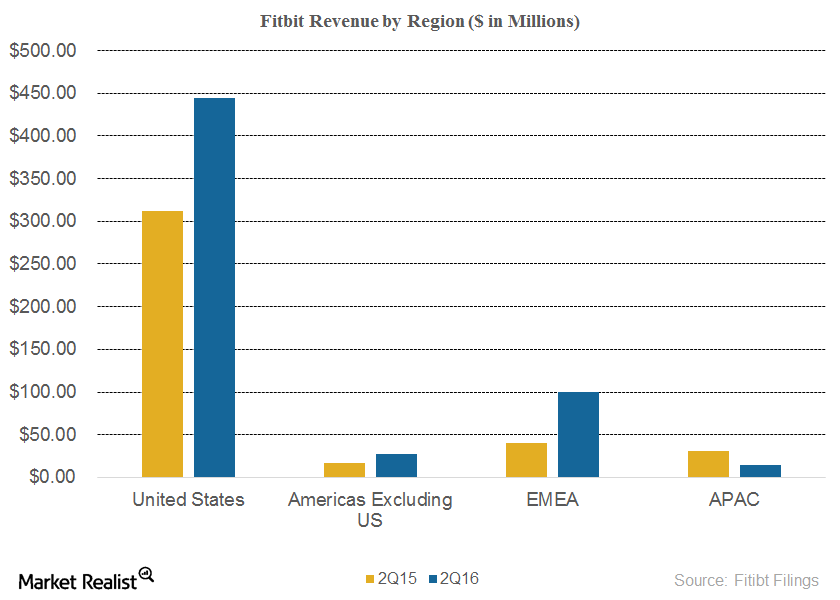 A Look at Fitbit's Major Markets
By Adam Rogers

Aug. 12 2016, Updated 9:05 a.m. ET
United States continues to drive revenues
In the United States, Fitbit's (FIT) biggest focus is on the significant expansion of its shelf space. The company had earlier expected the top four retailers in the United States to increase the linear footage of its displays by more than 50% to accommodate leading products such as Blaze, Alta, and related accessories.
The revenue Fitbit generated in the United States rose by 42% in 2Q16 to $445 million. The United States accounted for 76% of total revenues in 2Q16.
Article continues below advertisement
In Europe (EFA), the Middle East, and Africa (or EMEA), Fitbit continues to see substantial growth due to an increase in adoption rate. This is driven by interest in new products, marketing activities, and stronger relationships with key retailers. The EMEA accounted for 17% of 2Q16 revenues compared to 15% in 1Q16. Revenues from this region grew by 150% YoY (year-over-year) in 2Q16 to almost $100 million.
Sales fall in the Asia-Pacific region
Asia-Pacific accounted for 2% of 2Q16 revenues and fell by 54% YoY. According to Fitbit, "APAC was impacted by factors including the progressive shut down of retailer Dick Smith in Australia and a reduction of channel inventory. Excluding the Australia impact, APAC revenue increased 98% year-over-year."
Language and localization customization
Fitbit previously stressed the importance of language and localization customization to compete in China, Japan, and Korea. In May 2016, Fitbit announced its intent to enter into a strategic partnership with Alibaba (BABA) to further penetrate the market in China.
In the last earnings call, Fitbit's CEO (chief executive officer) James Park stated, "We believe the opportunity for us in China is significant, and we're excited about reaching millions of Chinese consumers through our partnership with Alibaba's Tmall platform."