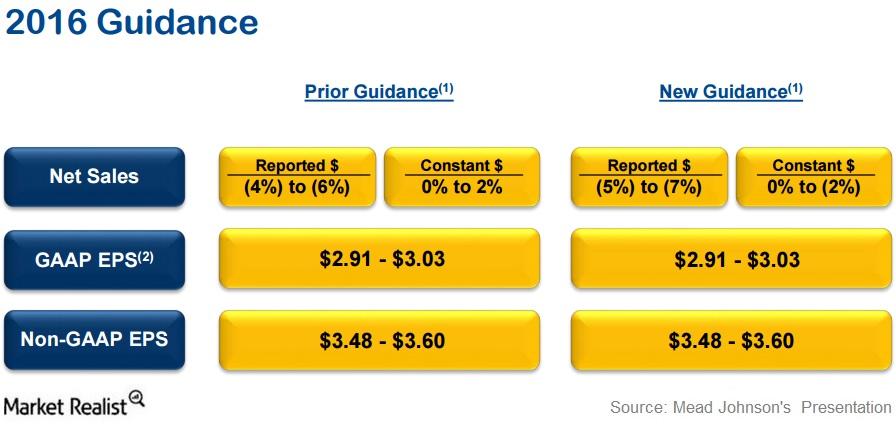 What Made Mead Johnson Nutrition Revise Expectations for 2016?
Positive growth in the coming quarters
During its 2Q16 earnings call, Mead Johnson Nutrition Company (MJN) stated it expects to see positive growth in the coming quarters, as reflected in its updated guidance. The company is on track in progressing with its efforts to reshape its product and brand portfolio in China. The company is also maximizing its opportunities by improving its gross margins through better product mix and by lowering expenses.
Article continues below advertisement
2016 updated guidance
Mead Johnson Nutrition revised its net sales outlook. It now expects constant-dollar sales to fall 0%–2% year-over-year in 2016. Currency translation is expected to have an adverse impact of 500 basis points, or 5%, on sales growth based on the current rate. Sales for 2016 are projected to decline 5%–7%, which is lower than the previous estimate of 6%–8%.
The revision in sales is mainly due to a lower-than-expected US market share in the first half of the year, increased customs processes at border points, and trade investments in China.
The company didn't change its EPS (earnings per share) guidance range. The company still expects to see GAAP EPS of $2.91–$3.03 and non-GAAP EPS of $3.48–$3.60 in 2016. The company expects its gross margin to rise above its earlier estimate of 64%, and lower operating costs are projected to compensate for the impact of lower sales. Foreign exchange impact is now estimated to be ~$0.35 per share, compared to the earlier estimate of $0.40 per share.
Mead Johnson Nutrition expanded its cost savings initiative program by increasing its 2016 target to $75 million–$80 million in savings from the earlier target of $60 million. The company also raised its three-year cumulative savings goals from $120 million to $180 million by 2018.
Among Mead Johnson Nutrition's peers in the food and packaging industry, Mondelez International (MDLZ) and Kraft Heinz Company (KHC) have returned -3% and 18%, respectively, so far in 2016. The Vanguard Consumer Staples ETF (VDC) invests 3.5% of its portfolio in Mondelez International. The First Trust NASDAQ-100 Ex-Technology Sector Index Fund (QQXT) invests 1.5% of its holdings in Kraft Heinz Company.
In the final part of this series, we'll look at analysts' recommendations for MJN.