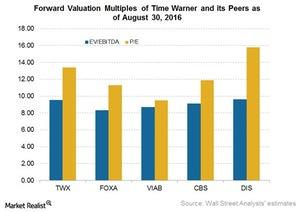 Understanding Time Warner's Valuation Metrics in 2H16
By Shirley Pelts

Updated
Valuation metrics
In this final part of our series, we'll look at some key metrics that investors can use to compare the values of media companies. We'll specifically look at media valuation multiples, which help with the valuation of conglomerates.
The most common valuation multiples for companies are PE (price-to-earnings), EV-to-EBITDA (enterprise value to earnings before interest, tax, depreciation, and amortization), PCF (price-to-cash-flow) ratio, and PFCF (price-to-free-cash-flow) ratio. Remember, price-based multiples take into account value from a shareholder's perspective, while EV-based multiples help investors understand the value of a company from capital holders' point of view. (The latter metrics are forward multiples based on the expected values of the denominator after a year.)
Article continues below advertisement
Time Warner's valuation compared to peers
As the above graph shows, Time Warner (TWX) has a forward PE multiple of 13.4x, which is high among its peers. Of these peers, Twenty-First Century Fox (FOXA), Viacom (VIAB), and CBS (CBS) have forward PE ratios of 11.3x, 9.5x, and 11.9x, respectively. Only Walt Disney (DIS) has a higher PE multiple at 15.8x.
Time Warner has a forward EV-to-EBITDA multiple of 9.5x, while Twenty-First Century Fox has the lowest forward EV-to-EBITDA among peers at 8.3x.
Time Warner's value proposition
Time Warner is pursuing original programming for its Turner division, which bodes well for the parent company in the long term. The company is also pursuing a content licensing strategy in international markets, instead of owning a network, and this approach could reap rich rewards in the long term.
Time Warner's viewership is increasing for its digital platforms, including HBO Now, HBO Go, and HBO On Demand. This trend indicates that the company is poised to corner a significant share of the online streaming market.
Notably, Time Warner plans to launch its online subscription service, FilmStruck, in addition to another service later this year.