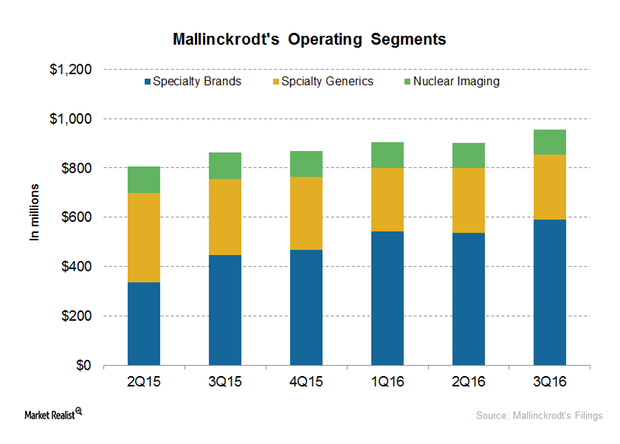 A Look at Mallinckrodt's Operating Segments
A look at Mallinckrodt's operating segments
Mallinckrodt (MNK) is a specialty pharmaceuticals company that relies on volume-driven growth. In this article, we'll discuss the performances of its three segments.
For detailed information on Mallinckrodt's segments, you can read Inside Mallinckrodt's Latest Performance: A Segmental Perspective.
Article continues below advertisement
Specialty Brands' performance
The Specialty Brands segment's revenue rose to $589.3 million in fiscal 3Q16. Contributions to Mallinckrodt's top line from the recently added Inomax and Therakos stood at $121.1 million and $52.5 million, respectively.
Acthar, the largest Specialty Brands product, earned $298.3 million, translating to ~11% annual sales growth. The Specialty Brands segment's net sales in the United States jumped by 28.6% and stood at $569.3 million, ~97% of the segment's total net sales.
Specialty Generics' performance
The Specialty Generics segment added $263.4 million to Mallinckrodt's net sales in fiscal 3Q16. Specialty Generics' revenue from the United States fell by 11% and stood at $227.4 million, 86% of the segment's total net sales, in the quarter.
Nuclear Imaging
The Nuclear Imaging segment's sales fell by 4.4% to $104 million in fiscal 3Q16. Lower net sales of generators and unfavorable currency impacts were the major reasons for the fall. The contribution from the United States stood at 65% of the segment's net sales.
It can be risky to directly invest in any equity. Risk-averse investors may feel more comfortable investing in ETFs. One such option is the First Trust Health Care AlphaDEX ETF (FXH), which holds 2.0% in Mallinckrodt.
The fund holds 14.4% of its total assets in pharmaceuticals companies. Pfizer (PFE) and AbbVie (ABBV) make up ~1.3% and 0.91% of the fund's total assets, respectively, while Medivation (MDVN) makes up 1.8%.
Let's discuss Mallinckrodt's Specialty Brands segment in detail in the next article.