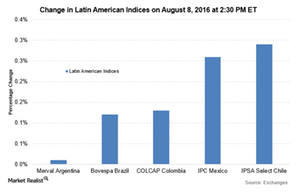 Latin American Markets Rise, Chile Records Slower Inflation
By David Meyer

Aug. 9 2016, Published 8:22 a.m. ET
Latin American markets rose despite declining Chinese imports
Latin American markets were trading higher on August 8—taking cues from a rise in commodity and crude prices globally. Crude prices rose 3.0% on Monday at 2:30 PM EST due to speculations among investors that OPEC (Organization of the Petroleum Exporting Countries) might look to put a cap on oil production.
Among the Latin American indexes, the Brazilian BM&F Bovespa SA Index and the Mexican IPC Index rose by 0.12% and 0.26%, respectively, on August 8 at 2:30 PM EST. Higher demand for crude in the US drove the positive sentiment in the Colombian COLCAP Index—it rose by 0.13%. Colombia depends heavily on crude oil prices. Crude prices have a direct impact on its export revenues. The Argentina Merval Index was trading flat, while the Chilean IPSA Select Index rose by 0.29% on July 26 at 2:30 PM EST on Monday
Article continues below advertisement
Chilean trade deficit continues, inflation eases
The Chilean trade deficit released at $90.1 million in May—compared to $33 million in the previous month and below expectations of a $200 million surplus. While a fall in exports by 9% on annual basis in July contributed to the gap due to lower crude sales, imports fell by 14% in July. On the other hand, inflation levels in Chile eased to 4% in July on an annual basis—slowing from 4.2% growth recorded last month. While prices of utilities and housing grew at a slower pace, the fall in the cost of transport also weighed on the sentiment.