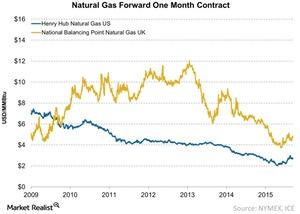 Natural Gas Price Movements for Nitrogen Fertilizers Last Week
By Adam Jones

Updated
Natural gas
For the week ended July 29, 2016, natural gas prices at Henry Hub inched up 1.6%. Natural gas is a key raw material that accounts for about two-thirds of input costs for nitrogen fertilizers such as ammonia. Thus, natural gas prices affect nitrogen fertilizer producers such as CF Industries (CF) and Terra Nitrogen (TNH), which use natural gas as a feedstock.
Prices fall
During the week ended July 29, 2016, natural gas spot prices rose an average of 1.6% to $2.80 per MMBtu (British thermal units in millions) from the previous week. However, the forward one-month (August) contracts have declined slightly by 0.6% week-over-week.
Natural gas prices at the NBP (National Balancing Point) in the United Kingdom rose 3.3% to $4.78 per MMBtu week-over-week. Henry Hub in the United States and NBP in the United Kingdom are the most heavily traded points for natural gas.
Subdued natural gas prices positively affect fertilizer producers such as CF Industries (CF), Agrium (AGU), Terra Nitrogen (TNH), and PotashCorp (POT). According to CF Industries, a $1 change per MMBtu in natural gas could change the cost of production for ammonia and granular urea by $32 and $22, respectively.
Fertilizer producers can mitigate natural gas price fluctuations through futures contracts. But these contracts can result in a loss if they move in an unfavorable direction. Losses lower gross margins. So volatility in natural gas prices affects companies even with hedging.
Natural gas prices also affect ETFs such as the iShares Global Materials (MXI). MXI invests about 4.5% of its portfolio in agricultural chemical companies, including Monsanto (MON).
Natural gas price forecast
Last week, the EIA (U.S. Energy Information Administration) maintained its 2016 forecast for average natural gas prices at Henry Hub at about $2.36. For 2017, it maintained its forecast of $2.95 per MMBtu. In 2015, the average price of natural gas at Henry Hub stood at $2.63 per MMBtu.
In the next part of this series, we'll take a look at coal prices. Coal is an alternative input material for nitrogen fertilizer production.
Article continues below advertisement