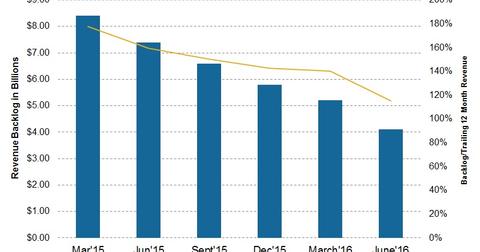 What You Should Know about Ensco's New Blend-and-Extend Contracts
By Sue Goodridge

Updated
Ensco's backlog
As of June 30, 2016, Ensco (ESV) had a total 2Q16 backlog of $4.1 billion compared to $5.2 billion at the end of 1Q16. A company's backlog helps gauge what's in store for the company's future.
As you can see in the graph below, Ensco's backlog-to-trailing-12-month-revenue ratio has fallen steeply from 159% in 2Q15 to 115% for 2Q16 as of June 30, 2016.
In the second quarter, Ensco's blend-and-extend agreements with its customers helped add some revenue backlog for the company. But these additions aren't enough to recoup utilized backlog in the second quarter. As we've seen, its total backlog has fallen compared to the previous quarter. A falling backlog is a common issue among all offshore drillers (OIH).
Article continues below advertisement
Blend-and-extend contracts
Ensco reached an agreement in April to extend the contract for Ensco 5004 by 18 months to midyear 2018.
Ensco extended the contract for ENSCO 5006 by 15 months, which added $90 million in backlog. Now the rig will be contracted until the third quarter of 2019.
In Brazil, Ensco extended the contract for ENSCO 6002 to late 2019 and agreed to an early contract termination of ENSCO 6003 and 6004.
In the Gulf of Mexico, Ensco signed a few short-term contracts and extensions and also agreed to a contract termination.
In the North Sea and the Middle East, Ensco secured short-term contract extensions. The company was awarded a contract in Indonesia, which will begin later this year.