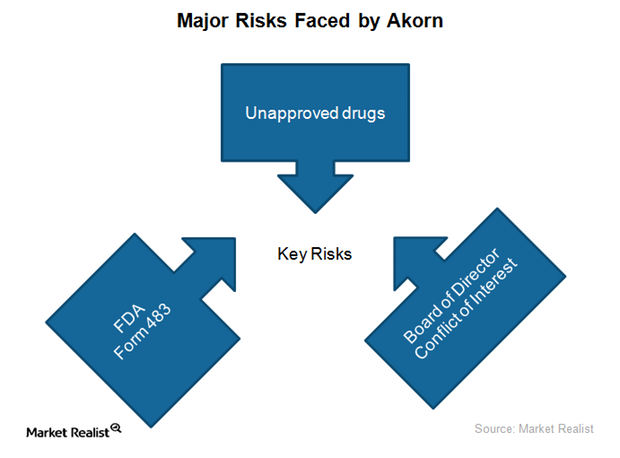 Akorn in 2016: What Are Its Key Risk Factors?
By Margaret Patrick

Aug. 30 2016, Updated 10:04 a.m. ET
Akorn's key risks
In addition to industry-specific risks faced by all generic pharmaceutical players, Akorn (AKRX) faces certain company-specific risks.
Article continues below advertisement
Unapproved drugs
Despite being a major revenue earner for Akorn, ephedrine sulfate injecton is not yet approved by the FDA (U.S. Food and Drug Administration). This can be attributed to the time gap between the various laws related to drug approval and the various requirements mandated by each of them.
The Pure Food and Drug Act of 1906 only restricted the sale of misbranded or adulterated drugs. It didn't require the FDA to specifically approve any drug. In 1938, Congress amended the law to require drugs to get FDA approval for safety reasons. Finally, in 1962, drugs had to get FDA approval for both efficacy and safety. This made it mandatory for all drugs approved between 1938 and 1962 to be subsequently tested and approved for efficacy.
Ephedrine sulfate is one of those drugs that was commercialized before the 1962 amendment to the Pure Food and Drug Act and needs to be approved again by the FDA.
Akorn has filed a New Drug Application (or NDA) seeking FDA approval for ephedrine sulfate injection in 2015. Additionally, the company markets five more unapproved drugs.
The FDA has been increasingly making it obligatory for companies to seek approval for their unapproved drugs. Approval for Flamel Technologies' Akovaz (ephedrine sulfate) is expected to increase FDA scrutiny, since the agency has historically been known to remove unapproved drugs from the market after the approval of competitive versions of those drugs.
If the FDA issues warning letters for the six unapproved drugs, it will significantly affect Akorn's revenues and profit margins. It may also impact share prices of the company as well as those of the SPDR S&P Pharmaceuticals ETF (XPH). Akorn makes up about 3.8% of XPH's total portfolio holdings.
Article continues below advertisement
FDA Form 483
According to the FDA website, "An FDA Form 483 is issued to firm management at the conclusion of an inspection when an investigator(s) has observed any conditions that in their judgement may constitute violations of the Food Drug and Cosmetic (FD&C) Act and related Acts."
Akorn's ephedrine sulfate received a PDUFA (Prescription Drug User Fee Act) date of July 15, 2016, at which time the FDA was supposed to declare its decision related to the drug. However, the agency conducted a pre-approval inspection as well as a biannual inspection of the Decatur manufacturing site. It found some violations related to the production of ephedrine sulfate as well as a few other drugs.
While Akorn has already submitted its responses related to Form 483s issued by the FDA, it's currently being reviewed by the FDA's Chicago District Office. Ephedrine sulfate is expected to receive approval after the resolution of Form 483s. Such regulatory actions impede Akorn's market position in front of competitors such as Teva Pharmaceutical (TEVA), Mylan (MYL), and Perrigo (PRGO).
Conflict of interest
The chair of Akorn's board of directors, John N. Kapoor, has about a 25% stake in the company. He's also president of EJ Financial Enterprises, a healthcare consulting company. This creates a conflict of interest since pharmaceutical companies working with EJ Financial may pose significant competition to Akorn in the future.