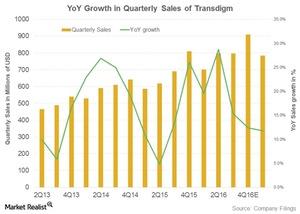 What Were the Key Drivers behind Transdigm's Revenue Gains?
By Shannon Black

Nov. 20 2020, Updated 4:43 p.m. ET
Transdigm's revenues in 3Q16
In 3Q16, Transdigm Group's (TDG) revenues were up 15.4% YoY (year-over-year) to $797.7 million—below Wall Street analysts' consensus estimates of $804.5 million. For the nine-month period in fiscal 2016, the company's revenues rose 21% YoY. In organic terms, sales were up 8% in 3Q16 with acquisition growth making up the rest. The company acquired Pexco Aerospace, PneauDraulics, and Breeze-Eastern last year. Transdigm is known for its acquisition-based growth strategy. The large acquisitive growth component in its revenues isn't out of the ordinary.
Article continues below advertisement
Transdigm's sales 
Components that go into commercial air transport account for 70% of Transdigm sales. The remaining 30% are derived from the military end market. Aftermarkets are responsible for 55% of commercial transport sales, while original equipment makes up the remaining 45%. Commercial aftermarket revenues rose 8% in the third quarter despite the soft business jet, freighter, and helicopter demand. Individually, these were small units for the company. Revenues in the commercial air transport segment move more or less in tandem with air traffic growth. The worldwide revenue passenger miles increased every year since 2008. Therefore, this is a part of the industry that's experiencing a strong tailwind.
The company's defense sales rose 3% in 3Q16 and have been flat year-to-date. Transdigm acknowledged weakness in its defense (XAR) aftermarket and original equipment sales and orders. Weak aftermarket orders are expected to have a modest impact on shipments in 4Q16.
In the last few weeks, we published earnings reports on aerospace (PPA) and defense players such as Spirit AeroSystems (SPR), Lockheed Martin (LMT), and General Dynamics (GD).