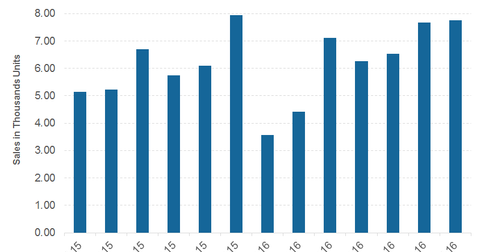 July Data Suggests Increasing Demand for Electric Vehicles in the US
By Jitendra Parashar

Updated
US auto sales in July 2016
Previously in this series, we looked at how sales of luxury vehicles in the US remained mixed in July 2016, with no clarity in the trend. While the demand for entry-level luxury SUVs, premium luxury SUVs, and sports cars increased, the demand for premium luxury cars fell sharply YoY (year-over-year).
Now let's look at US sales growth in the EV (electric vehicle) segment in July 2016.
Article continues below advertisement
EV sales in July
In July 2016, a total of about 7,762 battery EVs were sold in the US. This represents an increase of ~51% over July 2015.
In July 2016, Tesla's Model S stood at the top in the US EV segment with a sales figure of about 2400 units, while the company's Model X held second place with ~1500 units sold. These sales figures are much higher than those of their closest competitor, Nissan Leaf, which sold 1,063 units in July 2016.
Among other mainstream automakers (IYK), only 333 units of General Motors' (GM) Chevrolet Spark were sold in July, while sales of Fait Chrysler Automobiles' (FCAU) 500e and Ford Motor's (F) Focus EV stood at just 274 and 58 units, respectively.
Why is it important?
With auto industry dynamics changing at such a rapid pace, automakers are working to build vehicles that provide higher fuel efficiency. The advent of EVs has given a new dimension to the auto industry. In such an environment, automakers have had to innovate and implement faster than their competitors, and companies such as Tesla (TSLA) and Nissan have already demonstrated the potential of EVs to sell.
Read the next part for a discussion of the automobile leasing trend in the US.