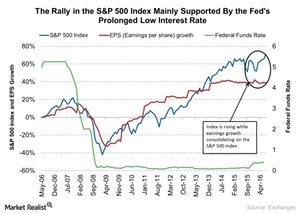 Jeffrey Gundlach Advises Investors to 'Sell Everything'
By Sarah Sands

Updated
Jeffrey Gundlach's view on the current market environment
In an interview with CNBC, DoubleLine Capital's CEO Jeffrey Gundlach discussed his views on asset prices, the recent run-up in the S&P 500 Index (SPY), the US (QQQ) (IVV) GDP growth rate, and the Federal Reserve's rate hike decision.
Gundlach thinks that many asset classes look pricey. He said that a bubble had been created in many asset classes due to the Fed's persistently low interest rates. Other billionaire investors agree with this stance:
Article continues below advertisement
George Soros has a bearish view on the global economy. Soros has said that the rally in the S&P 500 Index (VOO) (SPXL) is artificial, and that it's mainly been boosted by prolonged low interest rates.
Stanley Druckenmiller, another prominent investor, also said that the bull market is exhausting itself. Druckenmiller believes that the Fed is mainly responsible for the bull market.
Is the rally sustainable?
The S&P 500 is making new highs day by day. The index touched a high of 2,178 on August 1, 2016. Since the 2008 subprime crisis, the index had returned nearly 196% as of August 1, 2016.
The Fed has been maintaining the interest rate at near zero levels since the subprime crisis. However, it increased the interest rate by 25 basis points for the first time in a decade in December 2015.
The real factor behind market movements should be earnings. However, earnings didn't support the S&P 500's rally. The earnings curve is not accelerating, which shows that the rally is artificial, that is, only a bubble created by market participants.
When this bubble bursts, all investors will experience losses. Gundlach said that the artist Christopher Wool has a painting, "'Sell the house, sell the car, sell the kids.' That's exactly how I feel—sell everything. Nothing here looks good."
What pushed Gundlach to sell his holdings?
Gundlach announced on June 24, 2016, that his company had sold all of its European equity holdings on June 23, 2014. The UK referendum results came out on June 24, 2016.
Gundlach had previously said that Brexit wasn't possible and that the United Kingdom (EWU) would remain in the European Union (VGK) (EZU). When things turned in the opposite direction of his expectations, he assumed that there would be a greater risk of keeping European holdings.
In the next part of this series, we'll analyze Gundlach's view on US second-quarter GDP and the recent run-up in the S&P 500 Index.