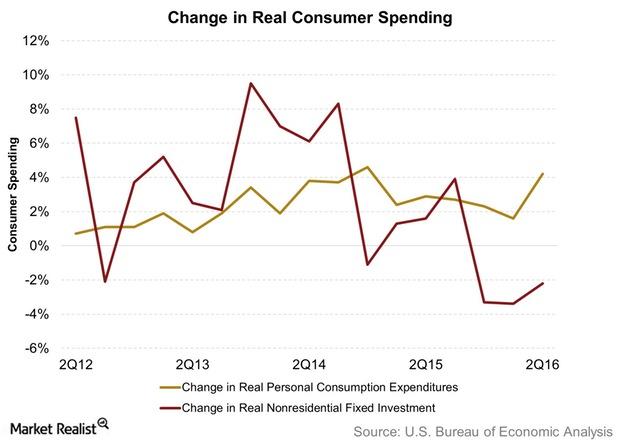 Janet Yellen on the State of the US Economy and the Outlook
Positive on the economy
As we saw in the previous part of this series, Fed chair Janet Yellen sounded positive about another rate hike in the United States. This positivity isn't possible without a favorable reading of the economy.
After stating her expectation of a rate hike at the Jackson Hole Economic Symposium, Yellen noted that robust household spending was helping US economic activity expand. However, as you can see in the graph below, business investments, apart from exports, continue to drag on economic output. It's also worth noting that 2Q16 economic growth has been revised downward to a 1.1% pace from 1.2%.
Article continues below advertisement
Yellen said that this moderate pace of economic growth has had a positive effect on the labor market. Due to healthy job additions in June and July, the average job additions in the past three months were 190,000. Keep in mind that revised job additions for May were just 24,000. Yellen further said that labor utilization measures have improved. These measures look at the slack in the labor market, if any.
On inflation, she had nothing more to add to what the Fed has already said again and again, that inflation continues to run below their mandated level of 2% due to earlier declines in imports and crude oil prices.
What's ahead for the US economy?
Speaking on what's ahead for the US economy, Yellen pointed to forecasts made by the FOMC (Federal Open Market Committee). The FOMC expects a moderate rate of economic growth, further strengthening of the labor market, and inflation moving toward its mandated level.
This created a backdrop for the somewhat hawkish tone for a hike in the federal funds rate this year. In her speech, Yellen said, "Based on this economic outlook, the FOMC continues to anticipate that gradual increases in the federal funds rate will be appropriate over time to achieve and sustain employment and inflation near our statutory objectives."
Consumer spending remains crucial for US economic growth going forward. Not only will it help companies such as Coca-Cola (KO), Costco Wholesale (COST), and Proctor & Gamble (PG), but it will also reflect the health in the labor market and fuel inflation. Worsening of labor market conditions in the form of slack in the labor market or reduced wages will negatively impact consumer spending and thus economic output. Bond investors (AGG) (BND) may also want to take note.
None of this may mean anything for a rate hike, though. Let's elaborate in the next part.