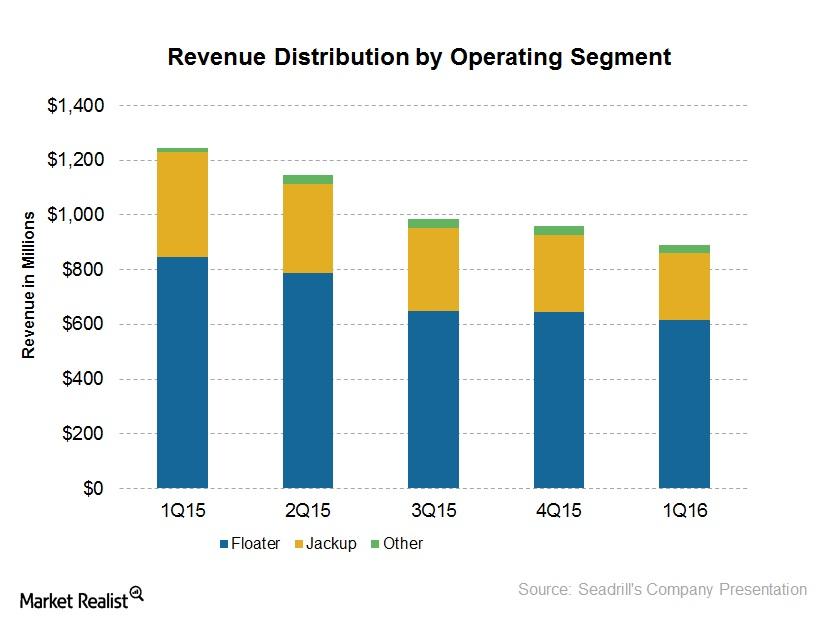 Jack-Ups, Floaters among Seadrill's Revenue Drivers
Operating segments
In the previous part of this series, we looked at Seadrill's revenue and the company's outlook for the industry. In this part, we'll look at the company's revenue by breaking it down according to its operating segments.
Seadrill (SDRL) has the following three operating segments:
floaters – semi-submersible rigs and drillships for harsh and gentle environments in mid, deep, and ultra-deep water
jack-ups – used for operations in harsh and gentle water
others – mainly rig management services
Article continues below advertisement
Floaters
In 2Q16, almost 70% of Seadrill's total revenue came from the floater segment.
The floater segment's revenue for fiscal 2Q16 was $610 million. This is $6 million lower than the $616 million in revenue in the previous quarter.
The company's economic utilization rate is calculated as the total revenue as a percent of the revenue that the company could have achieved based on its day rate.
Jack-up rigs
Seadrill's jack-up segment contributed 27% of the total fiscal 2Q16 revenue.
The jack-up segment's revenue was $234 million in fiscal 2Q16, compared to $246 million in fiscal 1Q16.
Future revenue
The company's 3Q16 revenue is expected to decline further. Eight rigs—West Orion, West Alpha, West Hercules, Seven Driller, West Phoenix, West Pegasus, West Prospero, and West Castor—are coming off contract in the third quarter.
Also, the company will have a lower day rate on another three rigs—West Freedom, West Ariel, and West Cressida. These factors will be partially offset by the start of operations and higher utilization on two rigs.