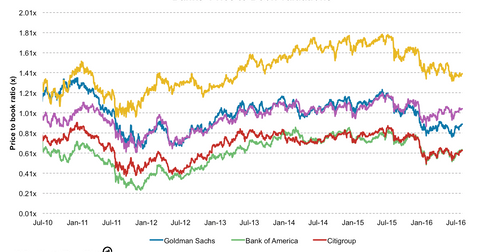 Is Wells Fargo's Premium to JPMorgan Chase Justified?
By Rebecca Keats

Updated
Wells Fargo trades at a premium to JPMorgan Chase
Generally, banking stocks (XLF) trade between 1x–2x their book values. Stocks trading lower than their book value attract investor attention because they are considered to be generating extremely poor returns.
Currently, JPMorgan Chase (JPM) trades close to its book value. This means it trades at a premium to Bank of America (BAC) and Citigroup (C), but it's cheaper than Wells Fargo (WFC).
Article continues below advertisement
JPMorgan Chase
Shares of JPMorgan Chase (JPM) have fallen by 1% year-to-date but have outperformed its banking peers. Its price-to-book value ratio (or PBV) ratio has declined by 5% in the past two months, which may provide a good entry point for investors.
Valuations in the banking space are currently beaten down as global volatility has led to bloodshed in the stock markets. The company presently offers an attractive combination of reasonable valuations, coupled with attractive dividend yields and a large-scale share buyback program.
Wells Fargo
Wells Fargo's (WFC) book value has grown twice that of JP Morgan Chase (JPM) and ten times that of Bank of America in the past ten years. It has been one of the most profitable banks in America, generating an ~1.3% return on assets in 2015.
The master of value investing, Warren Buffett has long favored Wells Fargo as a long-term value stock. Buffett's Berkshire Hathaway started acquiring Wells Fargo shares in 1989 and now holds a stake worth $23 billion. Currently, Wells Fargo forms 10% of Buffett's portfolio. Although Wells Fargo trades at a premium to its peers in the banking space, its PBV ratio has fallen from 1.5x to 1.3x in the last month.
Although it might not appear to be the greatest bargain among its peers at first sight, these metrics indicate that Wells Fargo (WFC) may be worth a second look. Because Wells Fargo relies less on investment banking and trading activities, it's less risky in the current conditions. Interest rate hikes could act as a positive catalyst to its earnings.