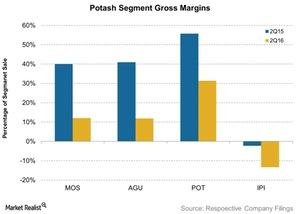 How Intrepid Potash's Gross Margin Compares with Its Peers
By Adam Jones

Dec. 4 2020, Updated 10:52 a.m. ET
Gross margins
In this series, we have seen how fundamentals for Intrepid Potash (IPI) have performed in recent quarters, as well as how it compares with other potash producers. In 2Q16, Intrepid Potash had a gross deficit. What does this mean?
Article continues below advertisement
IPI's gross margins
In 2Q16, Intrepid Potash had a gross deficit of $5 million, meaning that the company's cost of goods sold was greater than what they sold for. Last year, the company had a gross deficit, which widened over the year.
Looking at the chart above, the other three potash producers also experienced margin contractions. PotashCorp (POT) had the highest gross margins compared to other companies at 31% in 2Q16, which contracted from 56% in 2Q15. Mosaic (MOS) and Agrium's (AGU) gross margins contracted to 12% each in 2Q16 from ~40% in 2Q15.
These contracting margins show how players in the industry are impacted by the weakness in the potash market (MOO). While companies such as Mosaic and PotashCorp are choosing to idle their mines, Intrepid Potash also idled one of its facilities indefinitely.
IPI's earnings
With a gross deficit, Intrepid Potash reported an adjusted net loss per share of $0.23 in 2Q16, which would also make it the fifth consecutive quarter that the company has reported a net adjusted loss. In the past five consecutive quarters, Intrepid Potash reported a gross deficit in the recent four consecutive quarters.
This long streak of a gross deficit is particularly concerning when a company such as Intrepid Potash has high levels of debt. Let's discuss this in more detail in the next article.