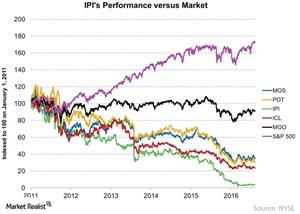 Intrepid Potash: What Lies ahead for This Battered Stock?
By Adam Jones

Updated
Intrepid Potash's performance
Intrepid Potash's (IPI) stock has been battered throughout 2016. On August 10, Intrepid Potash had one of the worst returns YTD (year-to-date) with its stock, falling by as much as 56%.
Intrepid Potash's poor performance is a result of weakness in industry fundamentals, which also impacted other companies within the sector (MOO) over the past few years. Let's look at how its peers have performed.
Article continues below advertisement
Five-year performance
In the chart above, we see how potash producers have performed over a five-year period.[1. From January 1, 2011, to August 10, 2016] Intrepid Potash, which only produces potash fertilizers, performed the worst when compared to the performance of other potash producers. These companies include PotashCorp (POT), Mosaic (MOS), Agrium (AGU), and Israel Chemicals (ICL).
Over the five-year period, Intrepid Potash's stock has declined by as much as 96%. Over the same period, PotashCorp fell by 69%, Mosaic fell by 64%, and Israel Chemicals fell by 76%. However, Agrium (AGU) has declined by only 1% over the five-year period.
Why did these companies suffer?
The fertilizer industry is cyclical. When industry fundamentals support higher margins, companies seek to expand their capacities. However, expanding capacities result in an excess capacity of what the market can absorb.
This results in a chain reaction that sends fertilizer prices down and sometimes below the cost of production. This is what has happened with Intrepid Potash.
Series overview
In this series, we'll look at why Intrepid Potash has emerged at the bottom of its peer group and what the company is doing to turn itself around.