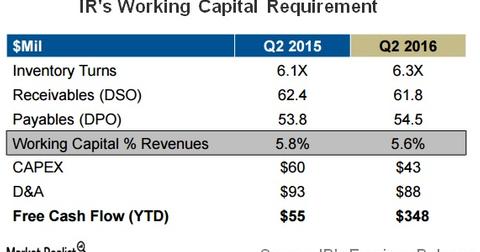 Did Ingersoll Rand Up Its Free Cash Flow Target for 2016 after Its 2Q Results?
By Jessica Stephans

Updated
What Ingersoll Rand's management says
In the current volatile global scenario, Ingersoll Rand's (IR) 2Q16 revenues and net profit have increased by 2.0% and 15%, respectively (including the Hussmann deal). The company is expected to maintain its adjusted operating margin in the range of 11.5%–12.0%. The previous operating margin guidance was 11.8%–12.3% in 1Q16, and the company's management is confident it can maintain its operating margins above 11.5% on the back of better productivity and cost control.
Article continues below advertisement
IR is working strategically to reduce its working capital requirement as a percentage of sales. In 2Q16, working capital as a percentage of sales was at 5.6%, as compared to 5.8% in 1Q16 and 6.2% in 2Q15. The company targets its working capital sales to reach 4.0% of sales in 2016, just below its 4.2% in 2015.
Revenue growth, marginal improvement in operating margins, and reduced working capital requirement in 2016 should help boost IR's free cash flows. After its 2Q16 results, IR has revised its free cash flows upward. Free cash flows are expected to be ~$1.0–$1.1 billion in 2016, excluding the Hussmann proceeds.
IR generated $55 million of adjusted free cash flow in 1H15. In 1H16, IR's adjusted free cash flows were at $348 million (including gains from the Hussmann deal). Remember, free cash flow is important because it allows a company to pursue opportunities that enhance shareholder value, and IR's management will continue to invest in value accretive opportunities that will drive its future growth.
According to analyst expectations, Ingersoll Rand should generate a free cash flow of $1 billion in 2016, which would be 80.8% higher than in 2015. Similarly, IR's industrial (XLI) peer Honeywell's (HON) free cash flow is expected to reach $4.7 billion in 2016, which would be 7.9% higher than in 2015. Notably, ABB's (ABB) and Lennox International's (LII) free cash flows are expected to decline by 2.3% and 6.2%, respectively.
But why, then, has Ingersoll Rand's debt decreased? We'll analyze this in the next part of our series.