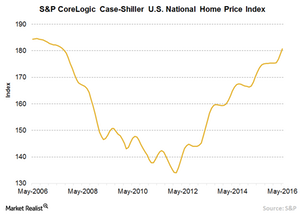 Ineffective Monetary Policies Are Inflating Asset Prices
Ineffective monetary policies creating potential future issues
Policy makers seem to be focused on solutions to previous problems without realizing that excesses are going to create additional issues. For example, an odd thing happened after Brexit—stocks ignored the risks Brexit posed to the global economy and the S&P 500® [1. S&P 500® Index (S&P 500) consists of 500 widely held common stocks, covering four broad sectors (industrials, utilities, financial, and transportation).] advanced to all-time highs. Markets rallied in the belief that more central bank stimulus would be forthcoming.
Bonds also moved to all-time highs. The traditional negative correlation between bonds and risk assets, including stocks, no longer applies thanks to meddling by central banks, which has caused asset price inflation (or bubbles) in both these asset classes.
Negative-yielding sovereign debt in Japan and Europe totals over $13 trillion now, according to a recent Bank of America Merrill Lynch analysis. We believe US rates are not far behind. Negative yields lock in a capital loss if held to maturity.
Article continues below advertisement
The only way to come out ahead is when negative yields are accompanied by deflation in excess of the yield rate. However, deflation comes with its own drawbacks—namely, bank failures, job loss, and depression. Without deflation, there is a limit to how much further yields can fall and for how long they stay in place before savers abandon the banking system to hold cash, despite the inconvenience that option brings. Or perhaps as an alternative, they look to hold gold since it exists outside of financial authority, cannot be a target of financial repression, and carries virtually no counterparty risk.
Market Realist: Asset prices are surging despite economic headwinds
The US economy grew by just GDP 1.2% in the second quarter—much less than the 2.6% expected by economists. This disappointing GDP growth was triggered by lower capital spending by corporates, which was offset by strong consumer spending.
The Eurozone economy also slowed in the second quarter to record a growth of 1.6%, down from 1.7% in 2Q15. On the other hand, Japan's GDP is expected to grow by just 0.7% in the second quarter YoY (year-over-year), mainly affected by weak domestic demand and flat exports.
Article continues below advertisement
Inflated asset prices
Due to weak growth, the market expects central banks to continue their aggressive monetary easing policies, which resulted in huge increases in liquidity into the market. This led to the sharp rise in asset prices. The S&P 500 is current trading at a forward PE (price-to-earnings) multiple of 18.5x, as compared to the 15.3x recorded in January.
Meanwhile, home prices, which have been resilient despite some economic headwinds, have seen a sustained upward pattern this year. The S&P/Case-Shiller National Home Price Index showed that average prices surged by 5.0% in both April and May. The index is now just 2.1% away from its 2006 peak.
Negative-yielding bonds
Weaker-than-expected global growth, monetary stimulus from central banks around the world, and negative interest rates in many developed countries have led to higher demand for government bonds (AGG). The surging demand has caused yields on bonds to dip below zero. The most reasonable explanation for investors to consider a negative yielding bond is the price deflation scenario, during which future cash flows are higher than the present.