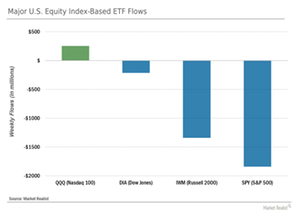 Index ETFs: Did You See this High in SPY?
By Meikel Mokry

Updated
An intriguing divergence between returns and fund flows
How quickly things can change! Just days after SPDR's S&P 500 ETF Trust (SPY), PowerShares' QQQ Trust (QQQ), and SPDR's Dow Jones Industrial Average ETF Trust (DIA) hit simultaneous record highs, investor sentiment started to feel a little shaky last week. This may sound surprising at first since returns for major US equity index ETFs didn't seem worrisome at all. Tech giant QQQ and broad-market SPY hardly changed at Friday's close while large-cap DIA only retreated ~0.3% from its record highs. If anything, the ~0.6% gain in small-cap IWM seemed encouraging as the volatile, high-beta ETF is traditionally in high demand during increased investor risk appetite. So, what's the catch?
Examining last week's fund flows provides an intriguing answer. As you can see in the chart below, the big four US equity index ETFs (SPY)(IWM)(DIA)(QQQ) witnessed a whopping ~$3.1 billion in net outflows.
Article continues below advertisement
Last week, investors took back ~70% of the capital they poured into SPY, DIA, QQQ, and IWM, during the "Triple High Week" ended Friday, August 12. The sudden reversal in fund flows shows how skittish market participants have become as US equities trade at record highs. Few investors are willing to make definite investment decisions, which reflects in SPY's narrow ~2.5% trading range since mid-July (July 14, 2016). Slow summer trading is one reason, but portfolio managers are also on standby after earnings estimates for the second half of 2016 were revised lower and uncertainty surrounding major events like this year's presidential election is high.
The same "wait-and-see" attitude is also observable on a single-stock level. Consider, for instance, tech stocks like Apple (AAPL) or Facebook (FB). Shares of both companies staged a remarkable rally since their respective earnings beats but have been trading in very narrow ranges of ~0.9% and ~1.6% since the second trading week of August.
Article continues below advertisement
Net inflows into SPY hit a YTD high but reversed fast
One noteworthy event occurred in SPY's broader fund flow picture. Monday's intraday record high of $219.50 was accompanied by capital injections of ~$880 million, which pushed cumulative net inflows in SPY to a YTD high of ~$6.6 billion. Over the following four days, however, investors took out ~$2.7 billion, using the ETF's record high as an opportunity to unwind long positions. The chart below shows how sudden the reversal in fund flows was, especially with SPY itself trading in a narrow range.
The chart above also shows the powerful reversal in SPY's net flows from their lows at the end of June to their highs this past Monday. Between June 29, 2016, and August 15, 2016, net flows reversed from a cumulative YTD outflow low of ~$9.8 billion to an inflow high of ~$6.6 billion. In the same period, SPY itself gained ~6.0%.
Whether the sudden reversal in fund inflows indicates a potential pull-back in SPY over the next days remains to be seen. What we can say, however, is that investors do seem somewhat nervous, which becomes increasingly evident in volatile capital reallocation.