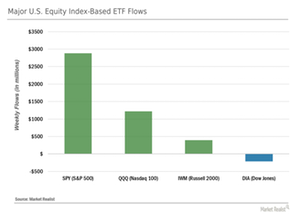 Index ETF Flows: A Turnaround on Tech Street?
Are returns and fund flows reversing?
The rise of actively selective investors may be the next turnaround story of 2016! A reversal in return and fund flows among the big four US equity index ETFs (QQQ)(SPY)(DIA)(IWM) provides a powerful example.
Consider the recent performance and flows of PowerShares' QQQ Trust (QQQ). The technology-focused ETF rallied ~7.5% in July—its largest monthly gain in 2016. More importantly, it outperformed all of its index ETF counterparts. The high-beta, small-cap iShares Russell 2000 ETF (IWM) rose ~5.3%, SPDR's S&P 500 ETF Trust (SPY) gained ~3.5%, and the SPDR Dow Jones Industrial Average ETF Trust (DIA) inched ~2.9% higher. The significance of the "July Reversal" becomes very clear when you consider QQQ's approximately -3.9% 2016 return at the end of June. At this point, the ETF significantly underperformed SPY, DIA, and IWM.
Last week was confirmatory as QQQ jumped another ~1.4%, closing at a new year-to-date high. Turning our attention to fund flows, we saw that inflows into QQQ had historical significance, adding a second layer to QQQ's reversal story.
Article continues below advertisement
QQQ sees the largest weekly inflows of 2016 
As the chart above shows, investors poured ~$1.2 billion into the largest technology ETF by assets under management (QQQ). Putting this number into perspective, note that last week's flows were the largest weekly inflows into QQQ in 2016! The same is true on a monthly basis. In July, investors allocated the most capital to QQQ since the beginning of the year. Considering that QQQ closed at a year-to-date high, you should note that investors didn't see the turnaround as an opportunity to offload some of their holdings. Instead, they had the confidence to add significant exposure.
What may be the reasons for the upside reversal in performance and flows?
Positive earnings surprises out of the technology space, together with QQQ's market cap–weighted, top-heavy portfolio structure, are one reason. Apple (AAPL) provides a powerful example. It weighs in at ~10.4%. Shares of the company rose ~5.6% on the week as Q3 revenue and profits beat analyst expectations. Consequently, QQQ jumped as well.
A more general reason is the fact that investors seem undecided and somewhat nervous about the recently incremental moves of year-to-date index outperformers that are hovering around their all-time highs, including SPY and DIA. QQQ may very well become a catch-up story.
The lesson here is by no means to pour your money into QQQ. Instead, the upside reversal in both performance and fund flows reflects the emergence of a broader turnaround story. Market participants are taking the first steps from passively investing broad-market plays to actively looking for possible turnaround candidates. The historically significant inflows into QQQ we observed are one example of active and selective asset reallocation.