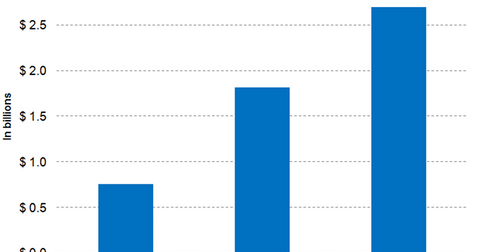 Imbruvica Continues to Report Better-than-Expected Sales in 2016
By Margaret Patrick

Updated
Imbruvica's growth prospects
In 1H16, AbbVie's (ABBV) drug Imbruvica managed to capture market share across all lines of therapy for chronic lymphocytic leukemia (or CLL) at a rate that exceeded the company's expectations.
On May 9, 2016, based on data obtained from the RESONATE-2 and HELIOS trials, the FDA updated Imbruvica's label to highlight the drug's expanded use as a therapy for both CLL and SLL (small lymphocytic leukemia). AbbVie is further exploring the use of Imbruvica in multiple other indications.
To know more about Imbruvica's growth strategy, you can read Could AbbVie's Imbruvica Become a Key Growth Driver in 2016?
Imbruvica's strong label is expected to enable the drug to pose tough competition to other hematologic oncology drugs such as Novartis's (NVS) Farydak, Celgene's (CELG) Revlimid, and Amgen's (AMGN) Kyprolis.
Wall Street analysts have projected that in 2016, Imbruvica's revenue will rise year-over-year (or YoY) by ~141%, from $754 million in 2015 to $1.8 billion in 2016. The drug is further expected to earn revenue worth $2.7 billion in 2017, a YoY rise of ~48.3%.
If Imbruvica's sales manage to surpass these estimates, it could boost AbbVie's share price as well as the price of the SPDR S&P Dividend ETF (SDY). AbbVie makes up about 1.6% of SDY's total holdings.
Article continues below advertisement
New developments
On June 29, 2016, Imbruvica received its fourth breakthrough therapy designation as well as an orphan drug designation (or ODD) from the FDA as a therapy for chronic graft-versus-host-disease (or cGVHD) should patients fail to respond to one or more lines of other therapies.
According to AbbVie's press release, "cGVHD is a severe and potentially life-threatening condition in which transplanted cells from the donor attack the patient's body. Patients may develop this common complication after undergoing allogeneic stem cell or bone marrow transplantation in which they receive cells from a donor."
With no approved therapies available in the market for cGVHD, Imbruvica may become a leading therapy for the condition.
In the next article, we'll study growth prospects for AbbVie's oncology drug Venclexta.