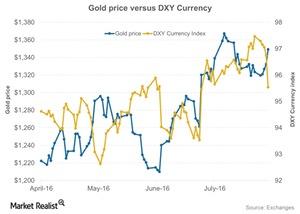 How the US Dollar Impacted Precious Metals
By Meera Shawn

Updated
US dollar fluctuations
Plummeting precious metals on Wednesday, August 17, 2016, were also a result of the comparative strength of the US dollar. The US dollar is represented by the US Dollar Index (or DXY) and measures the dollar's strength against a trade-weighted basket of six major currencies: the euro, the Japanese yen, the British pound, the Canadian dollar, the Swedish krona, and the Swiss franc. The US dollar increased by almost 0.29% on Thursday and also on the previous day.
Article continues below advertisement
However, The US dollar hit its lowest level against the euro in nearly eight weeks and an eight-week low against the Swiss franc on Thursday, a day after minutes from the Federal Reserve's July meeting showed a bias among policymakers against raising interest rates soon. The DXY closed at 94.1 on Thursday.
The strength of the US dollar often sends waves of weakness to precious metals, as they are dollar-denominated assets. The dollar and gold have a negative correlation.
Negative correlation
The above graph depicts the short-term relationship between gold and the DXY. As you can see, gold rose in July, and the DXY plummeted. On other days, precious metals flowed in the opposite direction. The correlation between gold and the DXY has been -0.34 over the past year. A correlation of 0.34 indicates that about 34% of the time, the US dollar moves in the opposite direction of gold.
Changes in precious metals with respect to the US dollar can also be depicted by fluctuations in precious-metal-based funds such as the SPDR Gold Shares (GLD) and the iShares Silver Trust (SLV).
The mining shares that rebounded on Thursday along with the rebound in metals include Agnico-Eagle Mines (AEM), Silver Wheaton (SLW), and Primero Mining (PPP). These three shares rose 0.77%, 0.89%, and 1.1%, respectively.