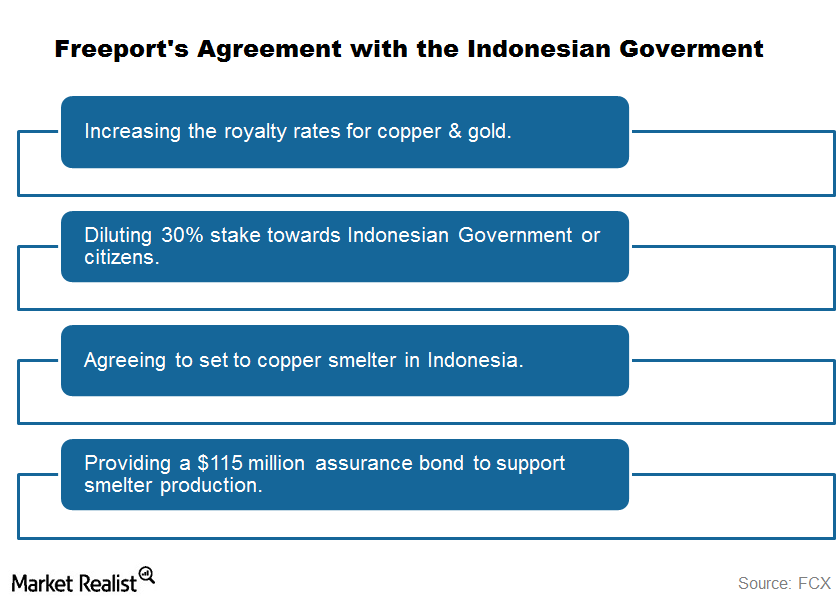 How Did Freeport's Indonesia Issues Begin?
Indonesia issues
Freeport-McMoRan (FCX) discovered the Grasberg mine in 1988 and began open pit mining at the site two years later. However, the last three years have been full of turmoil for the company's Indonesia operations. In this article, we'll look at the timeline of Freeport's Indonesia issues.
Article continues below advertisement
How did it begin?
Freeport's troubles began when Indonesia banned the export of unprocessed ores from the country in 2014. The Indonesian government wants more value addition in the country. It wants to increase exports of finished metal products and limit exports of unprocessed metals. This would help the Indonesian economy in the long term.
Mining companies like Freeport and Newport (NEM) were hard hit by the country's laws. However, Freeport managed to sign a memorandum of understanding (or MOU) with the Indonesian government.
MOU
Under this MOU, Freeport had to make several concessions to the Indonesian government. The above chart shows the key terms of the MOU.
Freeport had to increase royalty rates to 3.8% for gold and 4% for copper. Earlier, the royalty rate was 1% for gold and 3.8% for copper. Freeport also has to divest another 20.6% of its stake in Indonesian mines to the Indonesian government or its citizens. According to the MOU, Freeport also has to construct smelting operations to process copper ore.
Freeport has to sign an amended contract of work (or CoW) with the government of Indonesia. The current CoW allows Freeport mining access only until 2021. Freeport has to reach a deal with the Indonesian government for a new contract after 2021. So far, Freeport hasn't been able to sign the CoW and has been getting an export permit for shorter durations.
In the next part of the series, we'll look at the contentious issues between Freeport and the Indonesian government.
You can also consider the SPDR S&P Global Natural Resources ETF (GNR) to get diversified exposure to international natural resources companies. Together, BHP Billiton (BHP) and Rio Tinto (RIO) form ~6.4% of GNR's portfolio.