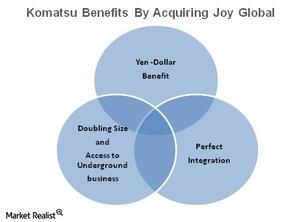 How Big Is Komatsu in the Construction and Mining Equipment Space?
By Jessica Stephans

Nov. 20 2020, Updated 10:39 a.m. ET
About Komatsu
Komatsu (KMTUY) is Japan's leading construction equipment maker. It manufacturer's and sells both construction as well as mining equipment, including excavator, bulldozers, and wheel loaders. The company operates on a global scale.
Globally, Komatsu is the second-largest manufacturer of construction and mining equipment, after US-based Caterpillar (CAT). Other mining industrial (XLI) equipment manufacturing players in the US include Illinois Tool Works (ITW) and Terex (TEX).
Article continues below advertisement
How will Komatsu benefit from JOY's acquisition?
A number of Japanese companies are taking advantage of the stronger yen to the US dollar. The dollar has fallen by 10% against the yen this year, and Komatsu has just agreed to buy Joy Global to gain market share and the following benefits:
integration with Joy Global's business
double the size of its manufacturing equipment business
a stronger core mining equipment business, with access to JOY's underground mining business (Komatsu produces only surface mining equipment)
expansion of customers worldwide
sustainable growth (80% of sales is generated outside of Japan)
Komatsu's financials at a glance
KMTUY generated revenues of $ 18.0 billion and $15.4 billion in fiscal 2015 and fiscal 2016, respectively (the company's financial year starts April 1 and ends March 31). The company's sales are expected to increase marginally by 3.1% and 1.5% in fiscal 2017 and fiscal 2018, respectively, excluding the JOY acquisition.
Komatsu's gross margins stood at 29.2% and 29.1% in fiscal 2015 and fiscal 2016. Its gross margins are expected to be in the same range for the next two years, according to Bloomberg estimates. The company's EBITDA (earnings before interest, tax, depreciation, and amortization) margins stood at 17.4% and 17.3% in fiscal 2015 and fiscal 2016, respectively, and its net margins were 7.8% and 7.4% for the same two periods. Bloomberg estimates that it will maintain its EBITDA and net margins for the next two years.
But will Joy Global's shareholders accept Komatsu's proposal for acquisition? We'll explore this question in the next part.