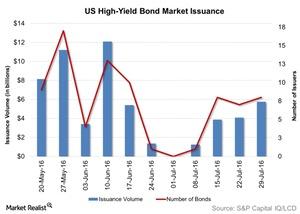 High-Yield Bond Issuance Rose Last Week
Deals and flows analysis in the high yield bond markets
High-yield bond issuance rose last week due to better yields—compared to sub-zero yields in other developed countries. However, much of the issuance was front loaded ahead of the Fed's monetary policy meeting.
According to data from S&P Capital IQ/LCD, dollar-denominated high-yield debt amounting to $5.8 billion was issued in the week ending July 29. In the previous week, junk bonds worth $4.1 billion were issued. The number of transactions was up slightly to eight last week from seven in the previous week.
The total US dollar-denominated issuance of high-yield debt stands at $56.9 billion YTD in 2016. This is 29% lower compared to the same period in 2015.
Article continues below advertisement
Purpose of the deals
Eight deals were priced last week—five were for refinancing purposes and three for general corporate purposes.
Post Holdings (POST) issued junk bonds for refinancing purposes, while PulteGroup (PHM), Navient (NAVI), and NXP Semiconductors N.V. (NXPI) issued junk bonds for general corporate purposes.
In the next part of this series, we'll analyze the deals that were priced last week. We'll also look at pricing trends.