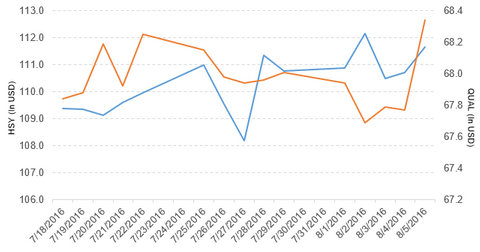 The Hershey Company Issues Notes, Receives Moody's Rating
By Gabriel Kane

Aug. 9 2016, Published 2:42 p.m. ET
Price movement
The Hershey Company (HSY) rose by 0.80% to close at $111.65 per share during the first week of August 2016. The stock's weekly, monthly, and year-to-date (or YTD) price movements were 0.80%, 1.5%, and 26.7%, respectively, as of August 5.
HSY is trading 1.5% above its 20-day moving average, 8.7% above its 50-day moving average, and 21.2% above its 200-day moving average.
Article continues below advertisement
Related ETF and peers
The iShares MSCI USA Quality Factor ETF (QUAL) invests 0.95% of its holdings in Hershey. The ETF tracks an index of US large- and mid-cap stocks, selected and weighted by high ROE (return on equity), stable earnings growth, and low debt-to-equity relative to its peers in each sector. The YTD price movement of QUAL was 5.8% on August 5.
The market caps of Hershey's competitors are as follows:
Latest news on Hershey
The Hershey Company has offered $500 million worth of 2.3% notes due in 2026 and $300 million worth of 3.4% notes due in 2046 in a public offering.
The net proceeds of these offerings will be used for the following:
to repay Hershey's $250 million aggregate principal amount of 5.5% notes due in 2016
to repay Hershey's $250 million aggregate principal amount of 1.5% notes due in 2016
to fund the company's Ripple Brand Collective acquisition and the related fees and expenses
for general corporate purposes
Article continues below advertisement
Moody's rated Hershey's notes
Moody's Investors Service has rated Hershey Company's senior unsecured notes as "A1." Moody's has kept the company's other ratings as unchanged and provided a "stable" outlook on the stock.
Performance of Hershey in 2Q16
Hershey reported fiscal 2Q16 net sales of $1.64 billion, a rise of 3.7% compared to net sales of $1.58 billion in 2Q15. Sales from its North America and International & Other segments rose by 3.2% and 7.6%, respectively, in 2Q16 compared to 2Q15. The company's gross profit margin fell by 2.2% in 2Q16, compared to the prior year's period.
Its net income and EPS (earnings per share) rose to $146.0 million and $0.68, respectively, in 2Q16 compared to -$99.9 million and -$0.47, respectively, in 2Q15. It reported non-GAAP (generally accepted accounting principles) EPS of $0.85 in 2Q16, a rise of 9.0% compared to 2Q15.
Hershey's cash and cash equivalents fell by 27.8%, and its inventories rose by 16.0% in 2Q16 compared to 4Q15. Its current ratio fell to 0.68x, and its debt-to-equity ratio rose to 6.2x in 2Q16. That compares to a current ratio and debt-to-equity ratio of 0.83x and 4.1x, respectively, in 4Q15.
Article continues below advertisement
Quarterly dividend
Hershey has declared quarterly dividends of ~$0.62 per share on its common stock and ~$0.56 per share on its Class B common stock. The dividends will be paid on September 15, 2016, to shareholders of record on August 25, 2016.
Projections
The company has made the following projections for 2016:
net sales growth of ~1.0%, including a net benefit from acquisitions and divestitures of about 0.5% and the unfavorable impact of 1 point from the foreign currency exchange rate
net sales growth of 2% on a constant currency basis due to macroeconomic challenges in China and low expected growth of the US CMG (candy, mint, and gum) category over the remainder of the year
adjusted EPS in the range of $4.24–$4.28, including barkTHINS dilution of $0.05–$0.06 per share
In the next article, we'll take a look at Fiat Chrysler Automobiles (FCAU).