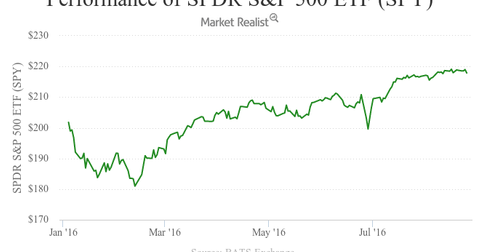 Goldman Sachs's Outlook on the Current Investment Environment
By Sarah Sands

Updated
Goldman Sachs's outlook
On August 9, 2016, Goldman Sachs (GS) wrote in a note to its clients. It advised them to look for dividend growth stocks in the current investment scenario.
In our previous article Goldman Sachs's Investment Strategies for a Flat Market Scenario, we saw that Goldman Sachs was expecting the S&P 500 index (SPY) (SPXL) to be flat for the rest of 2016. At that time, it also stated that the recent movement of the index (VFINX) (QQQ) is more correlated to market sentiment. It was fueled by commodity prices and global cues rather than the earnings report. Goldman Sachs suggested that high operating leverage companies will provide a handsome return.
[marketrealist-chart id=1571226]
Article continues below advertisement
Now, dividend growth stocks with cheaper valuations are expected to outperform in this environment. The note also said that "A combination of slow global growth, vast worldwide Central Bank easing and the hunt for global yield have kept a lid on the US Treasury rates. Impact to asset prices and portfolio performance is vast and acute."
Zero interest-rate policy
The world's (ACWI) (VT) major central banks are maintaining a zero interest-rate policy. Europe (IEV) (VGK) and Japan (EWJ) already entered into the negative interest-rate policy. The negative interest rate is indicating a negative yield for investors. The US (QQQ) (SPY) is the only developed market that's maintaining a positive interest rate. The positive yield is attracting investors towards the US Treasury.
Global slowdown
The global slow growth environment is also weighing on investment decisions. The deflationary situation is one of the major reasons behind the global growth slowdown. After the United Kingdom voted to leave the EU (European Union), it's expected that the United Kingdom's GDP growth could fall by 1.3%, 3.3%, and 2.5%, respectively, in 2018, 2020, and 2023. The EU's (VGK) (IEV) GDP growth could also fall by 1.1%, 0.9%, and 0.8%, respectively, in the above years—according to the report provided by the Organisation for Economic Cooperation and Development. It will impact global growth because both the EU and the United Kingdom are the important parts of the global economy. It could also trigger a slow growth environment.
In this situation, Goldman Sachs (GS) advised investors to pick up growing dividend stocks. In the next part of this series, we'll analyze its stock picks.