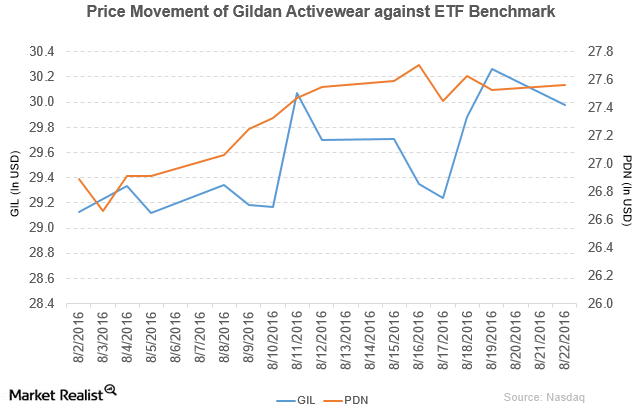 Gildan Activewear Completed the Acquisition of Peds Legwear
Price movement
Gildan Activewear (GIL) has a market cap of $7.1 billion. It fell by 0.93% and closed at $29.98 per share on August 22, 2016. The stock's weekly, monthly, and YTD (year-to-date) price movements were 0.91%, -4.2%, and 6.4%, respectively, on the same day. Gildan is trading 1.4% above its 20-day moving average, 1.3% above its 50-day moving average, and 4.6% above its 200-day moving average.
Article continues below advertisement
Related ETFs and peers
The PowerShares FTSE RAFI Developed Markets ex-US Small-Mid Portfolio ETF (PDN) invests 0.13% of its holdings in Gildan. PDN tracks a fundamentally weighted index of small and mid-cap developed-market securities outside the US. PDN's YTD price movement was 6.3% on August 22.
The FlexShares Morningstar Developed Markets ex-US Factor Tilt ETF (TLTD) invests 0.05% of its holdings in Gildan. TLTD tracks an index of equities from developed countries outside the US. The index favors smaller, value-oriented firms.
The market caps of Gildan Activewear's peers are as follows:
Gildan's acquisition
On August 22, 2016, Gildan Activewear completed the acquisition of Peds Legwear. On July 27, 2016, it entered into a definitive agreement to acquire 100% of Peds Legwear' equity interest. The acquisition, worth $55 million in a total cash transaction, is expected to close before the end of August 2016.
The company reported that "The acquisition is expected to create revenue growth opportunities by leveraging Gildan's existing customer relationships to broaden the channels of distribution for the Peds and MediPeds brands and by extending these brands into Gildan's other product categories."
Article continues below advertisement
Performance in fiscal 2Q16
Gildan Activewear reported fiscal 2Q16 net sales of $688.9 million—a fall of 3.5% from net sales of $714.2 million in fiscal 2Q15. Sales from the Printwear and Branded Apparel segments fell by 1.4% and 7.9%, respectively, between fiscal 2Q15 and 2Q16. The company's gross profit margin rose by 2.8% and its operating income fell by 3.3%.
Its adjusted net earnings and adjusted EPS (earnings per share) fell to $96.4 million and $0.41, respectively, in fiscal 2Q16—compared to $102.6 million and $0.42, respectively, in fiscal 2Q15. It reported adjusted EBITDA (earnings before interest, tax, depreciation, and amortization) of $145.1 million in fiscal 2Q16—a fall of 0.55% from fiscal 2Q15.
Gildan's inventories and accounts receivables rose by 8.2% and 49.1%, respectively, between fiscal 4Q15 and 2Q16. It reported a free cash flow of $130.2 million in fiscal 2Q16—compared to $18.5 million in fiscal 2Q15.
Projections
The company has made the following projections for fiscal 2016:
adjusted EPS of $1.50–$1.55
adjusted EBITDA of ~$545 million–$555 million
consolidated net sales of ~$2.7 billion that reflect projected sales of ~$1.7 billion and ~$1 billion in the Printwear and Branded Apparel segments, respectively
capital expenditure of ~$150 million–$175 million
This guidance includes the acquisition of Alstyle and Peds Legwear. They're projected to contribute aggregate sales of ~$115 million in 2016.
In the next part, we'll look at Nike (NKE).