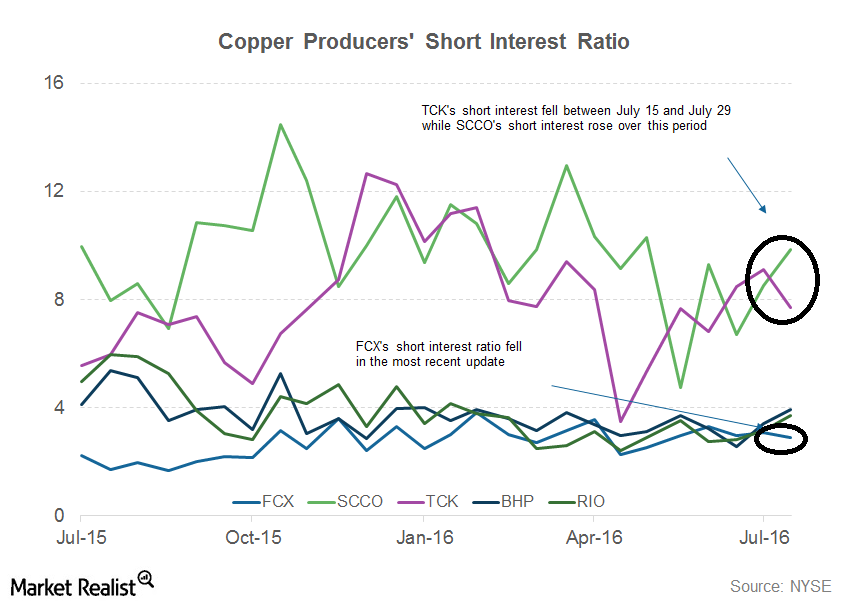 How Do Freeport-McMoRan's Short Positions Look in 2016?
Freeport's short positions
Before we analyze Freeport-McMoRan's (FCX) short positions, let's first discuss a few key terms. Short interest tells us the number of shares that have been sold short (SDS) (SPXS). Exchanges release the short interest every two weeks.
From the short interest, we can derive the short interest ratio, which is the short interest divided by the average daily traded volume. Short interest and short interest to market capitalization basically standardize the short interest. It's natural that larger, more liquid companies can have high absolute short interest. Therefore, we standardize short interest to the company's market capitalization or trading volumes.
Article continues below advertisement
Short interest ratio
According to the latest update on July 29, 2016, Freeport-McMoRan's (FCX) short interest ratio stood at ~2.9. This ratio has decreased from the previous update, when FCX's short interest ratio was ~3.1 on July 15. Currently, the company's short interest ratio is its lowest since May 13.
Other miners
Teck Resources's (TCK) short interest ratio has also fallen from ~9.1 to ~7.7 between July 15–July 29, 2016. However, the bears seem to be fancying their chances in some of the other mining companies. For instance, Southern Copper's (SCCO) short interest rose to ~9.8 on July 29. SCCO's short interest on July 15 was 8.50. BHP Billiton (BHP) and Rio Tinto (RIO) have also seen their short interest rise, as can be seen in the graph above.
Short interest expresses the general mood of the Market with respect to a particular security. However, a high short interest ratio can also trigger a short squeeze if positive news hits the markets.
In the next part of this series, we'll see how Freeport-McMoRan's key moving averages compare with other mining companies.